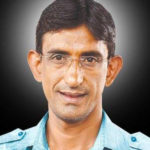 Social worker Syed Osman Azhar Maqsusi has been named to received the 27th Yudhvir Foundation Memorial Award in recognition of his dedication to uplifting the lives of people in marginalised communities by feeding the hungry. The award for this year includes a citation and cash of '¹1 lakh.
Mr. Azhar was only four-years-old when his father, an auto driver, passed away. His mother struggled to care for him and three other siblings. He gave up his studies at the age of 10 and took up odd jobs to support his family. In 2001 he started a Plaster of Paris unit which remains his only source of income even today.
A stray encounter with a hungry woman led Mr. Azhar to start his campaign to feed hungry persons in 2012. This has grown into a daily food camp for over 150 hungry mouths. In October 2015 he set up the NGO Sani Welfare Foundation to carry the work further.
Inspired by his example and at times aided by him, free food programmes for over 1,000 people have come up in different cities across India in coordination with local trusts and authorities. Free clinic, free educational academy and a free tailoring centre for needy women have also been set up.
His selfless perseverance has brought dramatic changes in the lives of those he has helped and he remains an inspiration for all of us, said a press release. Member of Parliament Kalvakuntla Kavitha will present the award on April 30 at KLN Prasad Auditorium, FTAPCCI Bhavan, Red Hills.