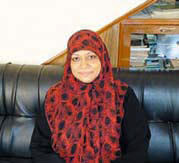 Aasra Home for the Women and Counseling Centre handled around 300 cases during the last one year. According to its secretary, Sajida Begum, Aasra managed by Tanzeemul Mohsinath, counseling was instrumental in resolving crisis situation for the women
who were victims of domestic violence, dowry harassment or desertion by the husband. Sajida told Islamic Voice, nearly 150 women were provided temporary shelter for varying periods during the year which ended in the just concluded Ramazan. She said on an average twelve women were always staying within the Aasra premises. She said a good number of women were those who were victims of sexual harassment by members of the family other than their husbands. Several mothers and wives expelled by their offspring and husbands respectively were provided shelter and rehabilitated after counseling of their family members.
She said the organization, which is of the nature of short-stay home for women in  crisis situations, handled two elopement cases where boy and girl belonged to different faiths. She said of the 300 cases, nearly 80 per cent were from Muslim women while remaining
pertained to non-Muslim women who were counseled by a Kannada-knowing counselor. Sajida Begum said the local police, women's NGO Vimochana and Child Welfare Committee of the State Government were also referring cases to Aasra for counseling, relief, and rehabilitation. She said there were a good number of cases where women were suffering due to desertion by the husbands. She said, cases of premarital pregnancies were rising and causing concern leading to either medically unsafe abortions or birth of illegitimate infants. She said such cases need to be handled very sensitively as a number of laws and personal laws made the situation complex.
The Aasra Home for Women is situation in Lingarajpuram area of Bangalore. It can be contacted on 080-25479968 or Sajida Begum can be accessed on 8050907706.