By A Staff Writer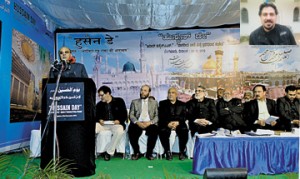 Bangalore: Karbala television is creating ripples by breaking the stereotype of Islamic channels across the world. The directorial chief of Karbala television, Hamza Al-Hadidi was in Bangalore to shoot the programme on 'Hussain Day' on December 23, 2012.
A congregation of Yaum-e-Hussain was held at the Shia Eidgah at Richmond Town, with scholars from all over India narrating their thoughts on Hazrat Imam Hussain (RA). The programme was attended by Syed Sibtey Razi (former governor of Jharkhand, Orissa and Assam), former minister, R Roshan Baig, N A Haris, Rev Father Ronnie Prabhu S J, Moulana Y S Usmani, Dr Taqi Abedi from Canada, Dr Gautam Allahabadi and Shakeel Hasan Shamsi (Editor in Chief of the daily, Inquilab North India).
Rev. Father Ronnie Prabhu said, that the day is remembered as a victory of truth against evil. He stated that Hazrat Imam Hussaim became immortal with his martyrdom at Karbala without bowing before the enemy. The programme was presided over by Moulana Syed Kalbe Jawad from Lucknow. He said that the time has come that we not just remember and recall the events of Karbala, but also start thinking on the lines of Imam Husain who stood by the truth.
Hamza Al-Hadidi is a hardcore television professional, having an eye for detail and expects nothing short of just perfection in work. It was his first visit to India and he shared his experiences with the Indian crew who helped him in setting up the spot studio during 'Hussain Day' at the Shia Eidgah on Hosur Road in Richmond Town in the city. His 20 years stint with the television industry, first began as an actor for the play 'Tamanus Huriya' (the cost of freedom) and 'Al-Bahath an-Saeed-o-Adeeb' (Search about the Audib, the king). This sad story took him to greater heights in proving his mettle in channels like Al-Iraqia, Al-Hurriya and other channels.
Hamza says, "With Karbala television, I am able to contribute to the community and to the world of Islam in a more polished way." His current work on Karbala Tv, 'Karbala Kant Hunak' is a popular series which has brought a sea change in the television programs, particularly in Iraq. He says, the series, 'Minkum-wa-alaikum' has become a household programme across the Middle East which deals with useful information for public use by women moderators. This programme features reports, interviews and conversations about life.