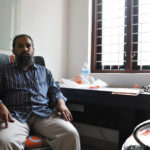 February 18, 2008, was an important date for Yahya Kammukutty. A software engineer with more than 10 years of experience, Yahya had quit his job a year ago and had started freelancing with various companies. In a week's time, he was scheduled to conduct his first training programme for young professionals and for Yahya, things were going as per plan.
April 24, 2017. Yahya, now 41, meets me in a small commercial building located just in Nellikaparamba. Yahya asks me to come to the first floor, where he is in the process of setting up a small company, which will cater to software solution and Enterprise Resource Planning. It is a modest setup; Yahya sweeps the room himself before we sit down to talk.
A conversation which reveals why it took 9 years for him to do what he always wanted to do.
Yahya wrapped up his day's work on February 18 and went home like every other day. His family, then consisting of three kids and his wife was waiting for him. Like every other day, he had his dinner and went to sleep. The same night, there was a knock on his door, and when he opened the door, Yahya saw two men in plain clothes. They claimed to be from the Police, showed their ID cards and he was asked to come along. "I was taken to the outskirts of Bangalore (Yelahanka) and from there, brought back to the city. While coming back to the city, I was blindfolded," says Yahya. On the first day of my detention, they asked me about my views on Islam, hoping to use something I say as a proof of my intentions," he says, smiling.
His family was running from pillar to post the next day trying to find his whereabouts but to little avail. "They visited almost all the police stations in Bangalore, but the police refused to help and claimed lack of information in this regard.
The Police had relied on the fact that he was a one-time member of SIMI, which Yahya never denied. "During my college days in Regional Engineering College, Calicut (now NIT Calicut) in the 90s, I was a member of SIMI. It was not illegal then, right?
"After college days, other issues took precedence and I moved on. I went on to work for MNCs, spent a year in the US and carried on with my work. How was I to know that my SIMI connection would come back to haunt me?"
The first day also saw Yahya tortured at the hands of the Police, who wanted him to reveal more information about the whereabouts of the other people. "I was the sixth person, in this case, to be arrested, and they wanted me to tell about the others. But I had no clue. I had been in Bangalore working on my projects," says Yahya. As is often the case in such arrests, the police said that Yahya had been arrested from the streets on February 21, three days after he had actually been taken into custody.
An Early Release
On 22 February, he was produced in the Magistrate's court in Hubli. Even that time, Yahya was sure that there must have been some mistake and expected an early release, at least on bail. "I honestly thought that this would get over soon. We knew that the police would take 90 days to prepare the charge sheet and after that, I could apply for bail," he says. As it turned out, the wait for release ran over seven years.
After the charge sheet was filed in April 2008, to Yahya's horror, the case proceedings did not take off until November 2010. "We were in jail, accused of being the most hardcore terrorists, but the government seemed to be happy just detaining us. If they had been sincere, they would have tried to start proceedings against us," he says. To make matters more difficult for Yahya, his bail applications were rejected both by the Sessions court as well as the High Court. Even pleas filed to speed up the trial process proved futile. "I had already spent 30 months in jail by the time the trial started. If this is not a mockery of justice, then what is?" Yahya says.
Bail Plea was Rejected
In 2011, one of the accused, Sameer Sadiq was granted bail by the Supreme Court, and seeing this, Yahya moved to the High Court again to apply for bail. "The plea remained in court for five months. During this time, the administration also started producing witnesses in court""130 over the six months""to show that the case was progressing and there was no reason to give me bail," says Yahya. Once the bail plea was rejected, the case was stalled again.
As his life crumbled in front of him, Yahya says that it was only his faith and belief in Allah that saved him. "You are in a cell and there is nothing to do. During my stay in the Belgaum jail, I prayed five times a day as usual. It is only Allah's guidance through Quran that gave me strength to carry on," he says.
In 2012, when he approached the High Court once again for bail, the HC asked the Sessions Court to complete the trial within ten months. But the whole year was wasted. For nine months, the case was stalled because the video conferencing system was not working. "You see that the whole system is mocking itself. We are already accused, but the system that is supposed to do justice makes a joke of itself. How long does it take to solve a simple issue? Minutes"¦but in this case, it took nine months," he says.
Nothing much changed in 2013 too and while over 100 witnesses were examined in the period when Yahya sought bail, between 2012 and 2013, less than 100 people were examined. Not that the witnesses helped the prosecution much, as the final verdict revealed.
Yahya says that during these years, he tried to distract himself by enrolling in a course, but that too was refused by the jail authorities. "I tried doing a course in Islamic Finance as early as 2009. However, the authorities, of course, saw it as an attempt on my part to indoctrinate myself or something"¦the word 'Islamic' was enough for them, I guess," he says laughingly.
The other cause of worry for him was, of course, his family. His wife and children had returned to Kerala and were staying with Yahya's parents. He says that during those days, although the family faced no social boycott, people maintained a distance due to the serious nature of the case. "Even relatives did the same, some were told that any contact with the family would only put them in danger. I do not blame them or hold any grudge against them," he said.
2014 finally saw some progress made again in the case, and as the trial moved on, Yahya also began realising that beyond making noise, the Police had little factual evidence. "The amount of evidence ran into 100s of pages, but there was little substance in it. Also, although the Police brought a total of 270 witnesses, none were of much help to them," he adds.
Towards the end of 2014, one of the accused applied for bail again, the High Court ordered the case to be wrapped up in four months.
Seven and a half years later from the day of arrest, Yahya and the other 16 were acquitted in the case in April 2015. "The verdict said that the prosecution had failed to prove any charges against me, and my first thought upon hearing was that of surprise," he says with a big smile. "I am not lying"¦I was pleasantly surprised and let me explain, why. If the administration wants, there is no doubt they can frame people like me. They have the resources and the power to do so. But despite so many attempts, they failed. Hence, I was surprised. After seeing how rotten the system is from the inside, nothing will ever surprise me now.
Acquittal does not mean a person is innocent, it means the prosecution could not prove the guilt of the accused. The Karnataka Police has filed an appeal against the verdict in the High Court. If it gets accepted and the trial begins, there is a chance that I might have to return to jail. So, I remind myself to not go too ahead of time, and keep myself on the ground," Yahya says.
The first week of his freedom was spent meeting relatives and his neighbours, who had thrown a big party upon his return. "The party made me realise that people had not forgotten who I was, and were relieved to see me free again," Yahya says.
Memories of Jail
Over the past 18 months, most of his time has been spent in trying to get back to a professional career. To begin with, he started working on time-bound projects with companies in Kozhikode and saving, once again, for his long-cherished dream of starting his own company. "I might be out, but the memories of jail will never leave me. But along with those memories, my dream of having my own enterprise and the guidance of Allah also keeps me going. Of course, being home and with my parents, my wife and my five children is of immense strength," says Yahya.
Extracted from twocircles.net