By A Staff Writer
Bangalore: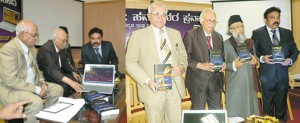 Muhammad: Sarvajana Parvadi, the Kannada translation of the Salaam Centre's book on Prophet Muhammad was released here at a press conference on January 23, on the eve of Eid Meelad-un-Nabi by Prof. Sheik Ali, former vice chancellor of Mangalore and Goa Universities. The Centre had released the original English book titled Follow Me: God will Love You, meant for free distribution among non-Muslims in 2011. Prof. Sheik Ali also launched the e-book version of the same title which will be accessible free of cost.
Speaking at the occasion, Prof. Sheik Ali commended the services of the Salaam Centre in disseminating the message of the Prophet and the Quran. He said Syed Hamid Mohsin had done yeoman service in making available the copies of the Quran and the book on the life and achievements of Prophet Muhammad to common men and officials.
Dr. Khamaruddin Abdur Rahman, Chairman of the Darul Umoor also spoke on the occasion. Maulana Khadeer Ahmed was also present on the occasion.
Syed Mohsin while addressing the press said, he intended to distribute one lakh copies of the Kannada book free of cost among people desirous of knowing the life and achievements of the holy Prophet.