Chinese Wins Medicine Prize, Science Prize for German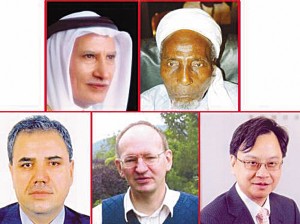 Riyadh: Prince Khaled Al-Faisal, Executive President of King Faisal Foundation, has announced the winners of King Faisal International Prize for the year 2014. The 36th annual King Faisal International Prize for Service to Islam has been awarded to Sheikh Dr. Ahmed Abou Bakr Lemu of  Nigeria, Chairman of Council of Trustees at Islamic Relief Commission Office. The Prize for Islamic Studies (Topic: Cultural Heritage of Makkah Al-Mukarramah) was awarded to Professor Abdul Wahab Ibrahim Abou Sulaiman of Saudi Arabia. Other winners are Professor Gerd Faltings of Germany (Science-Mathematics), Professor Yuk Ming Dennis Lo of China (Medicine -Non-Invasive Diagnosis of Fetal Diseases), and Dr. Abdullah Ibrahim Allawi Albussabah of Iraq, Cultural Advisor at Qatar Emir's Court.
Sheikh Dr. Ahmed Lemu is an advocate of moderation. He is a member of several international Muslim organizations worldwide. His efforts towards education, development and call to Islam are evident from his lectures, seminars and classes. He has authored several Islamic books and school references which fulfilled a significant part of the needs of the Nigerian community and served as important resources for many Nigerian Muslim generations, helping them to understand Islam and expand their knowledge of the Islamic creed.
He played a significant role in defending Muslim women's rights. His efforts culminated in the establishment of the Union of Muslim Women's societies in Nigeria, promotion of peaceful co-existence and fight against sectarian violence in that country. He also established the Islamic Dawah Institute to combat extremism.
Abou Sulaiman, who is member of the Saudi Council of Senior Islamic Scholars, was awarded the prize in recognition of his illustrious academic studies which monitor and document cultural exchanges between people in the holy Haram and its surroundings, particularly his text: "Bab Al-Salam", which portrays the issue during important historical periods.
Professor Gerd Faltings, winner of the prize in science, is the Director at the Max-Planck Institute for Mathematics in Bonn. He has made groundbreaking contributions to algebraic geometry and number theory. His work combines ingenuity, vision and technical power. He has introduced stunning new tools and techniques which are now constantly used in modern mathematics.
The winner of the prize in medicine, Professor Yuk Ming Dennis Lo, UK/China, is the Director of Li Ka Shing Institute for Health Sciences. He serves as Professor of Medicine, Chairman and Chief of Service, Department of Chemical Pathology, Faculty of Medicine, Chinese University of Hong Kong, and Prince of Wales Hospital. Professor Yuk Ming Dennis Lo has transformed the field of prenatal genetic diagnosis through his discovery of cell free fetal nucleic acids in the maternal blood and the identification of their placental source. Because of his pioneering role in the field of non-invasive diagnosis of fetal disease, he has been awarded the King Faisal International Prize in Medicine for the year 2014.
Dr. Abdullah Ibrahim Allawi Albussabah was awarded the prize in appreciation of his distinguished contributions to the study of the modern Arabic novel. Dr. Albusabah has employed different literary analytical methods in his book. His thorough knowledge of the Arabic narrative and world literary arts has enabled him to refine this complex specialty and analyze it in a persuasive manner, and to elucidate the discourse between the Arabic narrative and main stream narrative in world literature.