By A Staff Writer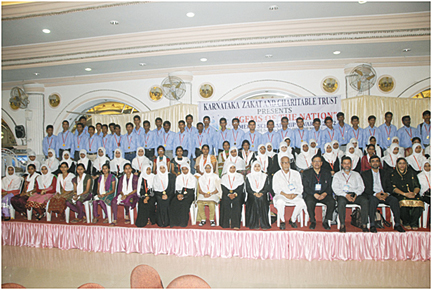 Bangalore: The Karnataka Zakat and Charitable Trust (KZCT) distributed scholarships among 330 students by giving out cheques to the tune of Rs. 13 lakh at an impressive function presided over by former Lok Ayukta . Justice Santosh Hegde on February 4.
Hegde also presented cash awards of Rs. 10,000 on behalf of the Trust by way of cheques to 129 students who had scored above 90 per cent marks in their SSLC exams last year. The 'Gems of the Nation' award ceremony was held at the glittering Samad House on Hospital Road. With this scholarship disbursement, the KZCT has given away scholarships to 7,000 students who scored 70 per cent and above in the last SSLC or PUC exams.
Speaking at the occasion, Justice Hegde exhorted the students to take a vow to become a good human being before being a good professional. He lamented that the lines between the wealth earned through legitimate means and ill-gotten wealth had been blurred and all wealthy people were being revered and respected in the society. He said ill-gotten wealth will not bring contentment. He asked the students to harbour ambitions and try to achieve it within the limits of law. Quoting the CAG report for the year 2006-07, Hegde said corrupt officials had siphoned off Rs. 51,000 crore out of the funds allocated by the Central Government to Karnataka to implement rural development schemes such as primary education, primary health care centres, IRDP and underground drainage. He said the magnitude of corruption in the state could be imagined in the light of this limited number of schemes. He said people lose humanism when they suffer from greed.
Khaleel Ahmed (hailing from Mangalore) who set up the KZCT in Hyderabad three years ago, called upon people who have made it big in life to come forward and contribute for the welfare of the society. He said Indian Muslims were fortunate enough to be a minority in India as India has an excellent record in managing the diversity compared  to several other countries in India's neighbourhood. Ameen Mudassir spoke about various career options available for students.. Syed Sultan Ahmed, MD, Edumedia India called upon the students to dream big in life. Irfan Kareem, an attorney from the United States asked the students to develop good moral values together with attainment of education and skills.
Special certificates were given together with cash award to the following students: 1- Mahe Anjum, Bidar (94% marks); Jaya Chandra, Mangalore (7.3%), Ruksana Nagma, Chikmagalur (93%), Umar Shariff, Puttur (95%); Naveen Kumar, Shimoga (95%); Lubna Ismail Khan, Karkala, (94%); Roshini, Mangalore (86%); Asfiya, Chikamagalur (95%); Asfiya Patel, Gulbarga (95%); Sharaddha, Mangalore (95%).