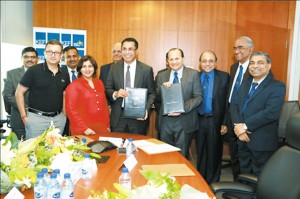 Manipal: The Faizal and Shabana Foundation, part of KEF Holdings in United Arab Emirates, has signed an MoU with Manipal University to invest Rs, 5 crore towards a research and development facility for precast concrete technology at Manipal Institute of Technology (MIT), India. The agreement will also introduce a precast design and engineering course to the University's curriculum. "This is a first for any institute of higher learning in India and has the potential to transform engineering education in the country," said Faizal Kottikollon, Chairman of KEF Holdings and Faizal and Shabana Foundation.
"We are pleased to be part of this exciting venture. This new research and development center will no doubt benefit many students and faculty members. Precast concrete technology is rapidly expanding in India due to its sustainability, affordability and time saving measures. We therefore believe that this course will be a huge success at the University." KEF Holdings recently entered a partnership with Finland-based Elematic, a leading provider for precast technology and machinery to set up manufacturing plants in India -and later UAE "" involving investments totaling Rs 300 crores. The Foundation aims to further precast technology by introducing it to students to advance the field and create employment opportunities for them.
The research and development center will be set up by the Foundation and expertise will be given to the University via a collaboration with Finland's Lahti University of Applied Sciences.