Seminar on 'Awqaf in India'
By Abdul Bari Masoud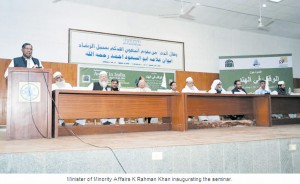 Bangalore: A seminar on "Awqaf in India" has called upon the Central and State governments to hold a fresh survey of waqf properties by involving Muslim organisations and institutions. The two day seminar, organized by the Islamic Fiqh Academy (IFA) of India in collaboration with the Jeddah-based Islamic Research and Training Institute (IRTI) of IDB and the Kuwait Public Awqaf Foundation here, on March 29-30, 2014, also called upon the community to launch a nationwide movement for retrieving those waqf properties which are under illegal occupation of government and private institutions.
Inaugurating the seminar at the Darul Uloom Sabeel-ur-Rashad (Arabic College) here, Minister of Minority Affairs, K, Rahman Khan said that the onus of recovering lost waqf properties is on every Indian Muslim. He made it clear that most of the properties are encroached upon by Muslims themselves as the properties encroached upon by the state agencies are by and large, the ones where there is a legal dispute. While stressing upon the need to preserve and develop the huge awqaf assets in the country, he urged the community to be vigilant against its own unscrupulous members. "A disguised form of encroachment that is quite common is the case of leasing out waqf assets at grossly below-market rates to members of the community. This is often tolerated on the basis of a false argument that the asset after all is serving the interests of the community members," he added.
In his key note address, Maulana Khalid Saifullah Rehmani, Secretary General of the Fiqh Academy traced the history of the waqf institution. He said, it was painful to see that Muslims are involved in usurping Waqf properties as they have no fear of God.
Representative of the IDB Group, Dr Mohammed Obaidullah highlighted IDB's various initiatives taken in the awqaf sector, such as, research and documentation, training and capacity building (development of training resources), organization of seminars and conferences etc. He specifically highlighted the activities of the Awqaf Properties Investment Fund (APIF), which has IDB as the mudarib of the Fund. With a paid-up capital of about 76.4 million dollar, it has so far developed properties worth Rs 6200 crores in 58 projects across 30 countries.
Justice Abdus Sattar Qureshi (former Judge, Gujarat High Court), Saleem Beg (former Director General, Tourism and Culture, Jammu and Kashmir), Dr M R Haque (former Secretary, Central Waqf Council), Dr Shakeel Ahmad Samdani (Deptt of Law, Aligarh Muslim University), advocate Salar M Khan, Dr Ghitirf Shahbaz Nadvi, Mufti Mohammad Ashraf Ali Baqvi and others also spoke in the seminar.
After due deliberation by a number of Awqaf officials, lawyers, ulema, social activists and intellectuals on the issues of illegal occupation, encroachment, protection and development of awqaf and use of their income and resources for the benefit of Muslim community, the Seminar unanimously adopted the following resolutions and recommendations:
* The waqf properties spread over the country should be surveyed as per the Waqf Act, 1995 by collaborating with reputed Muslim organizations and institutions. A committee consisting of experts of waqf affairs, lawyers, and ulema should be constituted for every state for this purpose.
* A movement should be initiated for removal of encroachment and illegal occupation of all such waqf properties including mosques, maqaabir (mausoleums), Khanqahs, chilla khanas, Inam lands, etc which are in the possession of the government or private entities. Their possession should be restored to the concerned Waqf Board.
* All such mosques and grave-yards, which are in possession of Archeological Survey of India, should be identified and surveyed. A comprehensive list of such waqf properties should be prepared and concerted efforts should be made to have permission for offering prayers in such mosques and burial of dead in such graveyards so that wishes of the waqif may be fulfilled.
* The National Waqf Development Corporation has to select and appoint experts of planning, law and social sciences for preparation of plans for development of waqf properties so as to increase their income and to make them more beneficial..
* This Seminar appeals to Muslim organizations and charitable institutions to prepare literature like booklets, leaflets, etc., for promotion of awareness about importance of waqf, both religious and social, their present situation, laws applicable to various aspects of this great Islamic institution, etc. so that spirit for creation of new awqaf is revived.
* Efforts should be made so that the income generated from awqaf properties being used for tourism purposes is transferred to concerned waqf boards.
* Efforts should be made for better management of all such mosques which are under control of the state waqf boards so that welfare of muazzins and imams can be ensured so that role of mosques in the society for progress and stability of community and country may come to fore.
* Representation of reputed prominent Muslim organizations in state waqf boards should be statutorily ensured.
*Waqf Protection Committees, consisting of conscientious members of local Muslim community, should be formed in every city to keep a watch over the affairs of awqaf, so that waqf properties are protected.
* Enactment of Waqf Amendment Act, 2013 by the central government, and hope that the coming government shall continue the commitment shown by its predecessor government on issues of waqf and shall further strengthen and get the currently pending bill on eviction of illegal occupants of waqf properties passed expeditiously.