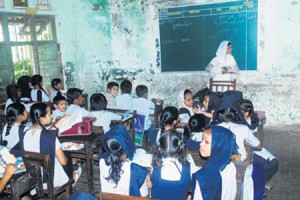 New Delhi: Muslim enrollment in schools has gone up marginally, says a new HRD Ministry report. This is a marked improvement in the condition of Muslims since the Sachar committee report presented in 2006. The Sachar committee report said that the status of Indian Muslims was below even that of Scheduled Castes (SCs) and Scheduled Tribes (STs), communities which are recognised in the Constitution of India as historically disadvantaged people.
The report, released on June 18, 2014, by Union HRD Minister Smriti Irani, has data for 2013-2014 which shows that as per the Educational Development Index, overall enrolment of Muslims in schools has gone up in many States and Union Territories in the country, with Puducherry at number one, followed by Lakshadweep, Tamil Nadu, Himachal Pradesh and Delhi.
According to the report, Muslim enrolment at primary level in 2013-14 went up marginally to 14.35 per cent from 14.20 per cent in 2012-13. At the upper primary level, the report says enrolment was 12.52 per cent, up from 12.11 per cent in 2012-13.
Indian Muslims are tired of being used as a vote-bank by political parties and of being radicalised by their religious leaders. They understand that education is the only road to their social and economic transformation. After all, religion and politics do not make sense to someone with an empty stomach. An example of how desperate the Muslims are for change will suffice. Despite the publicized anti-Muslim image of Narendra Modi and the BJP, the recent general election saw a shift of the Muslim vote in favour of the BJP. According to a survey by the Centre for the Study of Developing Societies (CSDS), 8 per cent Muslims voted for the BJP and its allies, a statistic nearly double from the 2009 polls. The dominant factor here seems to be the need for freedom from a ghettoised lifestyle. A community indifferent to education till now has started showing interest. Prime Minister Narendra Modi, whose party promised in its manifesto the modernisation of Madrasas should grab this opportunity and see that the Government's programmes for educating the minorities, especially Muslims who constitute a major chunk of India's minority population, are not just on paper, but are actually being implemented at the ground level and the benefits of these programmes are reaching the targeted beneficiaries. Some of these programmes include the Sarva Shiksha Abhiyan, Scheme for Providing Quality Education in Madrasas, Infrastructure Development of Aided/Unaided Minority Institutes and Greater Resources for Teaching Urdu.
Muslims are willing and participating. It is time for the Government of India to square the circle. A well-educated population is not only important for economic growth, but also a precondition for inclusive growth, since the employment opportunities provided by economic growth will only benefit the educated and skilled. For every step ahead, India will have to move this whole circle.