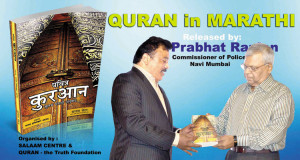 By A Staff Writer
Navi Mumbai: The Marathi translation of the holy Quran published by the Salaam Centre, Bengaluru was released on June 15, by Navi Mumbai Police Commissioner, Prabhat Ranjan at a function jointly organized by Salaam Centre and Quran Foundation, Mumbai. The function was held in Centurion Mall, Neerwal in the city. Nearly 800 people from various faith backgrounds, intellectuals, academicians and scribes received a copy of the translation together with translation of other books published by the Centre.
Addressing the gathering on the occasion, Mr. Ranjan said the Quran connects human being with their Creator and should be accessible to all. It was indeed gracious on the part of the Salaam Centre that they thought about translating this divine scripture in Marathi, one of India's very progressive language. Deputy Commissioner of Police Suresh Mangade hoped that a lot of misconceptions about Islam and Muslims would be removed by directly accessing the Quran. Swami Lakshmi Acharya from Uttar Pradesh said the Quran eliminates the reasons for terrorism rather than promoting it.
Maulana Syed Abdullah Tariq from Rampur, a noted scholar, highlighted the virtues of monotheism.
Syed Hamid Mohsin, chairman, Salaam Centre appealed to the Muslims to take the Quran translation and other books to people of other faiths in their contact. He said nearly 35 lakh people have so far gone through the books by the Salaam Centre. He said all the books of the Centre would be hoisted on the internet in e-book format shortly. The Marathi translation of books titled Follow Me, Ghalat Fahmiyan, and Islam for All were also released on the occasion. For details contact: 99011-29956.