The latest Pew Research Projections indicate that by 2050, there will be near parity between Muslims (2.8 billion, or 30% of the population) and Christians (2.9 billion, or 31%), possibly for the first time in history.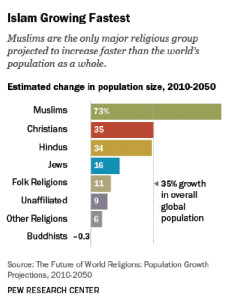 The religious profile of the world is rapidly changing, driven primarily by differences in fertility rates and the size of youth populations among the world's major religions, as well as by people switching faiths. Over the next four decades, Christians will remain the largest religious group, but Islam will grow faster than any other major religion. If current trends continue, by 2050:
The number of Muslims will nearly equal the number of Christians around the world.
Atheists, agnostics and other people who do not affiliate with any religion "" though increasing in countries such as the United States and France "" will make up a declining share of the world's total population.
The global Buddhist population will be about the same size it was in 2010, while the Hindu and Jewish populations will be larger than they are today.
In Europe, Muslims will make up 10% of the overall population.
India will retain a Hindu majority but also will have the largest Muslim population of any country in the world, surpassing Indonesia.
In the United States, Christians will decline from more than three-quarters of the population in 2010 to two-thirds in 2050, and Judaism will no longer be the largest non-Christian religion. Muslims will be more numerous in the U.S. than people who identify as Jewish on the basis of religion.
Four out of every 10 Christians in the world will live in sub-Saharan Africa.
These are among the global religious trends highlighted in the new demographic projections by the Pew Research Center, released last month.
As of 2010, Christianity was by far the world's largest religion, with an estimated 2.2 billion adherents, nearly a third (31%) of all 6.9 billion people on Earth. Islam was second, with 1.6 billion adherents, or 23% of the global population.
If current demographic trends continue, however, Islam will nearly catch up by the middle of the 21st century. Between 2010 and 2050, the world's total population is expected to rise to 9.3 billion, a 35% increase. Over that same period, Muslims "" a comparatively youthful population with high fertility rates, are projected to increase by 73%. The number of Christians also is projected to rise, but more slowly, at about the same rate (35%) as the global population overall.
As a result, according to the Pew Research projections, by 2050 there will be near parity between Muslims (2.8 billion, or 30% of the population) and Christians (2.9 billion, or 31%), possibly for the first time in history.
With the exception of Buddhists, all of the world's major religious groups are poised for at least some growth in absolute numbers in the coming decades. The global Buddhist population is expected to be fairly stable because of low fertility rates and aging populations in countries such as China, Thailand and Japan.
Worldwide, the Hindu population is projected to rise by 34%, from a little over 1 billion to nearly 1.4 billion, roughly keeping pace with overall population growth. Jews, the smallest religious group for which separate projections were made, are expected to grow 16%, from a little less than 14 million in 2010 to 16.1 million worldwide in 2050.
Adherents of various folk religions "" including African traditional religions, Chinese folk religions, Native American religions and Australian aboriginal religions "" are projected to increase by 11%, from 405 million to nearly 450 million.
And all other religions combined "" an umbrella category that includes Baha'is, Jains, Sikhs, Taoists and many smaller faiths, are projected to increase 6%, from a total of approximately 58 million to more than 61 million over the same period.
Similarly, the religiously unaffiliated population is projected to shrink as a percentage of the global population, even though it will increase in absolute number. In 2010, censuses and surveys indicate, there were about 1.1 billion atheists, agnostics and people who do not identify with any particular religion. By 2050, the unaffiliated population is expected to exceed 1.2 billion. But, as a share of all the people in the world, those with no religious affiliation are projected to decline from 16% in 2010 to 13% by the middle of this century.
Globally, Muslims have the highest fertility rate, an average of 3.1 children per woman "" well above replacement level (2.1), the minimum typically needed to maintain a stable population.6 Christians are second, at 2.7 children per woman. Hindu fertility (2.4) is similar to the global average (2.5). Worldwide, Jewish fertility (2.3 children per woman) also is above replacement level. All the other groups have fertility levels too low to sustain their populations: folk religions (1.8 children per woman), other religions (1.7), the unaffiliated (1.7) and Buddhists (1.6).
The projected growth of Muslims and Christians would be driven largely by the continued expansion of Africa's population. Due to the heavy concentration of Christians and Muslims in this high-fertility region, both groups would increase as a percentage of the global population. Combined, the world's two largest religious groups would make up more than two-thirds of the global population in 2100 (69%), up from 61% in 2050 and 55% in 2010.
Muslims in 2050 are expected to make up more than 50% of the population in 51 countries, two more than in 2010, as both the Republic of Macedonia and Nigeria are projected to gain Muslim majorities. But Nigeria also will continue to have a very large Christian population. Indeed, Nigeria is projected to have the third-largest Christian population in the world by 2050, after the United States and Brazil. As of 2050, the largest religious group in France, New Zealand and the Netherlands is expected to be the unaffiliated.