Children of Somali diaspora in Canada come together to fend off famine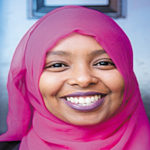 By Philip Lee-Shanok
Samiya Abdi a member of Fight The Famine Toronto, says many in her group have never been to Somalia, but want to prevent a looming humanitarian disaster.
A new generation of young Somali-Canadians is looking to raise both money and awareness of the looming disaster in their parents' homeland "" and hope the international community will act before it's too late. Samiya Abdi, a member of Fight The Famine Toronto, says she's part of a wave of young activists and educated professionals who are hoping to prevent a disaster rather than react to it. According to the United Nations Office for the Coordination of Humanitarian Affairs there have been  2,984 new cholera cases and 34 deaths from April 10th to 16th alone. Just six years ago, this same region was hit by a famine that killed more than 250,000 people.
Agencies are struggling to avert what could be third full-scale famine in 25 years. Fight the Famine Toronto, an initiative by the Somali-Canadian Relief Task Force, is hoping to raise $100,000 to prevent famine in Somalia.
Abdi says this time around something can be done to save lives. "Unlike in 2011, in 2017 we have the real opportunity to avert famine. Famine has not been declared yet, however there is severe drought that has caused the loss of 80 per cent of livestock," she said. Abdi says her group is a youth-led initiative linked to a global movement of young people upset at the world's silence and the slow response six years ago. 
"A lot of us either grew up outside of Somalia or were born outside of Somalia. Only a few of us have even visited," Abdi said. She says the impact of the drought is widespread, affecting half the country's 6.3 million people population.