Tulip Garden of Kashmir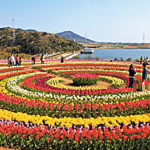 Tulip Garden near Srinagar just had the Tulip Festival from April 1 to 15. Named after former Prime Minister of India, Indira Gandhi, the Tulip Garden had nearly 1.5 million tulips (known as gul e lalal in Urdu and Persian) blooming on 90 acres of land. Tulips display all the colours, red, violet, purple, white, pink, green and some of them are multi-coloured too. The garden was raised by the Jammu and Kashmir Tourism Department in 2007 which organized the Tulip Festival in the first fortnight of April as part of Bahar e Kashmir. Located close to Siraj Bagh Chashma e Shahi at the foothills of zabarwant range of hills, it is situated close to Dal Lake.
Tulips have a lifespan of only 15 days and wither away if the temperature rises beyond 20 degree Celsius. Nearly 40,000 tourists visited the Tulip Garden this year. In fact, the opening of the Garden has advanced the arrival of tourism season by two months.