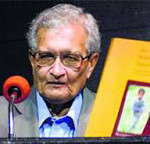 Amartya Sen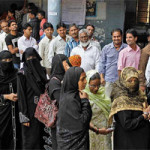 Muslim areas served with poor civic amenities, 52% do not go beyond primary education.
By A Staff Writer
Kolkata: The latest Report on living conditions of Muslims in West Bengal portrays a dismal picture of the community. The Report released on February 14 by Nobel Laureate Amartya Sen, was compiled by Social Network for Assistance to People (SNAP). It reveals that 80% of the rural Muslim households in West Bengal live off on a monthly income of Rs. 5,000 or less. Only 3.8% such households earn Rs. 15,000 or more a month. It says, "41.5% of rural Muslim households own some land other than homestead land. Only 23.5% own cropland besides the homestead land".
West Bengal has a total population of 92 million (9.2 crore). Muslims are said to account for 27% of the population in the State. The minority vote is considered one of the most important factors in Bengal elections, the latest of which is to be held around April or May this year.
It found that in case of 1.55% households surveyed, the main earner was a schoolteacher. Public sector jobs account for the income of only 1.54% Muslim households. Muslim participation in private sector was even less, only 1% reported to be employed in such firms or companies.
"What is remarkable is the fact that Muslims constitute a very much larger proportion of the poor and the deprived in West Bengal," writes Nobel laureate and economist Amartya Sen, who unveiled the study, in a statement. Sen was to release the report in Kolkata but could not reach the venue in time due to a flight delay at Delhi Airport. He said: "The fact that Muslims in West Bengal are disproportionately poorer and more deprived in terms of living condition is an empirical recognition that gives this report an inescapable immediacy and practical urgency," according to the statement Sen conveyed from the Delhi airport.
Titled Living Reality of Muslims in West Bengal, the report was drawn up on the basis of a survey carried out by Association SNAP and Guidance Guild, in association with Pratichi Institute. The survey covered 97,017 Muslim households (HHs) with a cumulative population of 463,904, spread across 325 villages in 81 blocks and 73 wards in 30 municipalities. Pratichi Trust works in villages of West Bengal and Bangladesh and is funded by the Nobel Prize money contributed by Mr. Amartya Sena.
The Survey reveals that 13.2% of adult Muslims did not have voter cards. Only 12.2% HHs had drainage connections while the general average for the State is 31.3%. 14.4% of the Muslim children in 6 to 14 age group were out of schools. Of these, 5.4 percentage points dropped out and 9.1 percentage points never enrolled.
Official records say that the State has 10.6 secondary and higher secondary schools for every one lakh population. But in three minority dominated districts, the number of these schools were North Dinajpur (6.2), Malda (8.5) and Murshidabad (7.2).
It says while 32% of the State's people were living in urban areas, among Muslims only 19% were in urban areas. The average size of a Muslim family in rural Bengal was found to be 4.8 members against the general population's 4.5 members. In urban Bengal the Muslim families had 5.2 members against 4.4 for general population.
Here are some of the Highlights of the Survey:
The new survey found that 65 of the 341 blocks in Bengal are minority-dominated.
Literacy rate of Muslims surveyed is 69.5% cent. Overall literacy rate is 76.26%, according to the 2011 census.
47% are day labourers.
27% cent of roads in Muslim-dominated villages are waterlogged, 18% roads are unmetalled and are in a poor condition. Only 9% cent are blacktopped and 4% concrete.
94% of the Muslim-dominated villages depend on publicly provided tube wells. Only 36% villages have government-supplied tap water. 15.2% Muslims have access to tap water compared to 25.4% of general population
35% of villagers need to travel at least 4 kms to reach a primary healthcare centre, the lowest unit of basic healthcare services
8% of villages have no electricity. The government claims that 644 piped water supply projects were commissioned between 2011 and 2015.
3 % of villages with a population of at least 1,000 do not have any school, although the Government of West Bengal claims that 758 primary schools have been set up between 2011 and 2015.
10% of villages don't have any Integrated Child Development Scheme (ICDS) centres. The Government claims that the number of undernourished children has come down from 36% in March 2011 to 19.97 % in January 2015.
The report says 90% of the rural Muslims are Bengali-speaking and only a tiny section reported Urdu to be their mother tongue. It said 2.5 crore, or 83% Muslims of the State lived in non-urban areas. The survey reveals that only 0.4% of the surveyed community people can access "socially preferred professions such as medical, legal or engineering. Only about 20% of the families surveyd were found to be in ocupations that could be described as 'socially coveted' or 'likeable'. 52% of the West Bengal Muslims do not study beyond primary level (i.e., 5th to 7th std). No literate adult was found in nearly one fifth of the surveyed households and this is certainly a cause for concern.
One area where West Bengal scores is communal harmony between Hindus and Muslims wit the State having no major communal conflict and clashes for several decades, mainly because the two communities share the same cultural traits.
The Report had however observed that the official apathy was not merely reserved for Muslims. Even the lower caste Hindus and Adivasis (tribals) were object of similarly negligence at the hands of the state administration.