Around four lakh Rohingyas pushed into Bangladesh; 176 villages torched; UN describes 'textbook example' of ethnic cleansing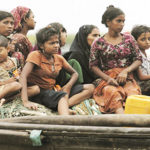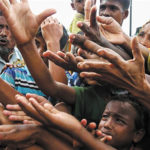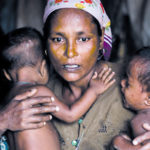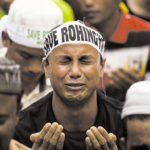 With nearly 400,000 Arakanese Muslims pushed out of their homes into Bangladesh, the issue of Rohingyas has burst into the international limelight since Burmese Army crackdown on August 25 in Rakhine.
Rakhine region of Myanmar was previously known as Arakan. It had been ceded by the Burmese Kingdom to the British Indian Government in 1826. It became a part of Burma in 1948 after the country gained independence. As of now, 52% of its total population of 37 lakhs consists of Buddhists while 42.7% are Muslims. The Hindus constitute 0.5% while Christians make up 1.8%. Myanmar had been constantly under a military government since its Independence. The federal government has been pursuing a policy of forcible assimilation of ethnic minorities into the Buddhist mainstream. The policy has encountered opposition in several regions including Rakhine.
Rohingya Muslims have faced decades of persecution in Buddhist-majority Myanmar, and are denied citizenship despite centuries-old roots in the Rakhine region. Many people in Myanmar don't call them Rohingya, and instead use the term "Bengalis" and say they are people who migrated illegally from Bangladesh. Significantly, Bangladesh and Myanmar share a 271-km long border.
Myanmar expert Dr. Maung Zarni says the military considers Rohingya "borderlands people", who have cultural and historical ties with both Burma (now known as Myanmar) and East Bengal (a Muslim majority area formerly known as East Pakistan and now Bangladesh).
Current Phase
The current phase of Rohingya exodus started after August 25 when the Myanmar Army began its onslaught against villages and towns inhabited by Rohingyas in the name of flushing out Rohingya militants. It alleged raids by the militants belonging to Arakan Rohingya Salvation Army (ARSA) on Army camps. According to the UN High Commissioner for Refugees (UNHCR) and other aid agencies, nearly four lakh Rohingyas have entered Bangladesh during the last one month, of whom 60% are children. Three Rakhine townships of Maungdaw, Buthidaung and Rathedaung have been set ablaze by the security forces and 2,000 homes have been destroyed. Bangladesh, itself a land and resource-scarce nation, cannot afford to take refugees.
Muslims constitute more than 80″"96% of the population near the border with Bangladesh and the coastal areas, even though they are subject to a government rule limiting them to two children per family. According to various local surveys conducted after the riots of 2012, it was found that if the +1 million diaspora outside Burma were included, the Rohingya would constitute about 62.7% of the population of the state of Rakhine.
Scorched-Earth Policy
Amnesty International said Security forces and vigilante mobs in Myanmar are carrying out a scorched-earth policy in the majority-Muslim region of Rakhine State, burning down entire Rohingya villages and shooting at people as they try to flee. According to new satellite imagery, fire-detection data, photographs and videos from the ground, the human rights group said on September 15 that there were at least 80 large-scale fires in inhabited areas across northern Rakhine State since 25 August.
Irrefutable Evidence
"The evidence is irrefutable – the Myanmar security forces are setting northern Rakhine State ablaze in a targeted campaign to push the Rohingya people out of Myanmar," said Tirana Hassan, Amnesty International's Crisis Response Director.
The Myanmarese Army itself has admitted that 176 of 431 villages inhabited by ethnic Rohingya have been emptied. According to the report, Rohingya said that soldiers, police and vigilante groups would sometimes encircle a village and fire into the air before entering, but would often just storm in and start firing in all directions.
"When the military came, they started shooting at people who got very scared and started running. I saw the military shoot many people and kill two young boys. They used weapons to burn our houses," one survivor said. "There used to be 900 houses in our village; now only 80 are left. There is no one left to even bury the bodies," he added.  
Pillars of Fires
Amnesty said it was able to corroborate the burning by analysing photographs taken from across the Naf River in Bangladesh, showing huge pillars of smoke rising inside Myanmar.
The international rights organisation said that in some areas, local authorities warned villages in advance that their homes would be burned, a clear indication that the attacks were both deliberate and planned.
Myanmar Prime Minister Aung San Suu Ki, a Nobel Peace Prize winner, has described reports in the disturbing coverage in the Western media as 'huge iceberg of misinformation' and is clearly on the defensive. Bangladesh's situation is precarious, caught as it is between its adverse economic conditions and public opinion against pushing Muslim refugees back into the hands of the 'murderous Myanmarese army'.
Conflict takes on different forms in Myanmar, with armed hostilities, political and inter-communal violence, and ethnic conflict all contributing to ever-growing displacement figures. Myanmar's military has been engaged in armed conflict since the country gained independence in 1948, with more than 30 ethnic insurgent non-state armed groups emerging over the last 70 years. The military dictatorship of the last two decades ended in 2015, when the country's first contested national election since 1990 resulted in a victory for the National League for Democracy. The Panglong Peace Conference brought together almost all ethnic armed groups for the first time, and a peace and reconciliation process is under way.
The continued marginalisation and displacement of minorities such as the Rohingya, however, created new tensions and conflicts. In Rakhine state, chronic poverty and competition for resources, combined with historical religious and ethnic tensions between the Rohingya and Rakhine's Buddhist majority, led to inter-communal violence in 2012. The government has no policies to address the marginalisation of the state's Buddhists, who fear that the growth of the Muslim population will marginalise them even further. In the absence of a programme to tackle the existing deprivation suffered by all of Rakhine's inhabitants, tensions between the two communities worsened. Large numbers of Rohingya have fled across the border into Bangladesh, where they are facing renewed displacement in the form of forced returns as the government seeks the repatriation of all Myanmar nationals who have taken refuge in Bangladesh since the 1970s.