Sikh Peace Activist Shot Dead in Pakistan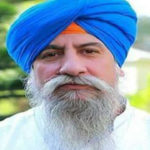 Charanjeet Singh had hosted meals for Muslims at Ramadan in Peshawar.
Unknown attackers shot dead a veteran Sikh peace activist known for his active contribution to interfaith harmony in Pakistan's militancy-hit northwest. Charanjeet Singh, 44, was in his grocery shop on May 29 when gunmen on motorcyclists opened fire at him and sped away in Peshawar, capital of Khyber Pakhtunkhwa province. He died on his way to Lady Reading Hospital. The slain activist regularly conducted interfaith programs and had hosted iftar (evening) meals for Muslims since the start of fasting month Ramadan at two locations in Peshawar.
Around 60,000 Sikhs live in Khyber Pakhtunkhwa, including 15,000 who live in Peshawar alone. According to Professor Kalyan Singh, general secretary of Guru Nanak Ji Mission, none of them are safe. "Six prominent leaders of our community have been killed in the past two years in this region. The voice of interfaith has been silenced, but security is one of the many problems they are facing," he told ucanews.com.
In 2016, Minority Affairs Minister Sardar Soran Singh, the first Sikh to sit in Khyber Pakhtunkhwa's assembly, was killed in front of his home in Bacha Killay village in mountainous Buner district.