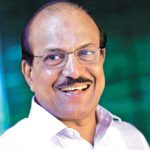 Mr. P. K. Kunhalikutty of the Indian Union Muslim League (IUML) was elected Member of the Lok Sabha from Malappuram constituency on April 17. He defeated his nearest rival, CPM's M. B. Faisal by a margin of 1.71 lakh votes. The by election was held on April 12. Mr. Kutty, who is general secretary of the IUML secured 55% of the 9.36 lakh votes, while Faisal polled 36.77% votes. BJP candidate Mr. N. Sreeprakash secured 7% votes. The Malappuram seat had fallen vacant due to the death of Mr. E. Ahamed who had won the same in 2015 General Elections with a record margin of 1.91 lakh votes.
Mr. Kunhalikutty has been an MLA and a minister in Kerala Government for several terms.
Kutty ended his 35-year long tenure as Member of the Kerala Legislative Assembly on April 22 by resigning from his membership.