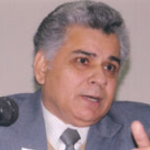 New Delhi: Noted Urdu writer and former head of Department of Urdu, Delhi University Prof. Irteza Karim, was appointed as new director of National Council for Promotion of Urdu Language (NCPUL) on June 7. Council is an autonomous body under the Ministry of Human Resource for the promotion of Urdu language.
Prof. Karim who replaces Khwaja Md. Ekramuddin who demitted the office on completion of his term a day before. Speaking to Urdu press Prof. Karim said: 'The Council has to go through many tests, the major work ahead is to open new centers across the country'.
Prof. Karim is an author of many books. His appointment is widely welcomed in Urdu literary circle across the country and it hope that the Council will move in positive direction under his able leadership to promote Urdu in true sense.