Shah Waliullah Award for Iftikhar Gilani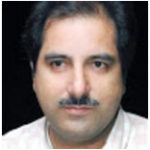 New Delh: Noted journalist, Iftikhar Gilani has bagged this year's Shah Waliullah Muhaddis Dehlvi Award for his outstanding contribution to journalism.. Iftikhar Gilani was selected by the Delhi-based Institute of Objective Studies (IOS) for its 12th Shah Wali Ullah Award. The award carries a memento and a cash reward of rupees one lakh. It has been given to 11 persons since its inception in 1999 for their outstanding achievement in Social Sciences, Islamic Studies, Law and other subjects.
The Institute for the first time has considered a journalist for its most coveted award. He was selected by a jury consisting of Dr. Manzoor Alam (Chairman, IOS), Prof. Mohsin Usmani, Prof Ishtiaq Danish, Prof. Afzal Wani and Prof. Zuhoor Ahmad Khan. The team was headed by former Chief Justice of India Justice A. M. Ahmedi.
The jury members later informed that Iftikhar was given the award for his contribution to 'Journalism, Society and Indian Muslims'.
Iftikhar Gilani hails from Sopore in North Kashmir and has been based in Delhi for the last 26 years. Currently, he is Editor Strategic Affairs and Chief of National Bureau of Daily News Analysis (DNA), published from Mumbai, Pune, Indore, and Jaipur.

Appointed:
Saleem Ahmed,  former Karnataka MLC, has been appointed Additional State Representative in New Delhi. He was earlier Director General of the Nehru Yuvak Centre in Delhi and was chief whip of the Congress Party in Legislative Council during his tenure as MLC.
 
Appointed:
Noted economist Dr. Abusaleh Shariff has taken over as Professor of Maulana Azad Chair at the Maulana Abul Kalam Azad National Urdu University (MANUU). He was member-secretary of the Rajinder Sachar Committee on the educational and socio-economic situation of Muslims in India, which presented its report in 2006. He has been associated as chief economist at the National Council of Applied Economic Research (NCAER) at Delhi. He was chief scholar at the US-India Policy Institute at Washington, following completion and presentation of the Sachar Committee Report at New Delhi.

Appointed: Tehmina Janjua, became the first woman Foreign Secretary of Pakistan on Feb. 13. She was Pakistan's serving ambassador and Permanent Representative to the UN in Geneva. She has put in 32 years of service and holds Master's degrees from Quaid e Azam University, Islamabad and Columbia University, New York. She was also the country's ambassador to Italy.
Caning and Jail: Bander Yahya Alzahrani (39), a Saudi envoy based in China was sentenced in Singapore to be caned and jailing for 26 months after being convicted of outraging the modesty of a hotel worker. The culprit was working as a diplomat in Saudi mission in Beijing and was accused of crimes while holidaying in Singapore. Singapore retains the punishment of caning by a rattan cane, a British time legacy.