Nearly a fourth of the 403 Assembly seats could be considered low-hanging fruits for Muslim electorate only if they could devise ways to unify choices for candidates.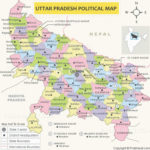 By Syed Zafar Mahmood
Uttar Pradesh Legislative Assembly has 403 seats. Muslims constitute 35 to 78% in 68 Assembly segments. Of these 8 seats are reserved for the Scheduled Castes (SC). These are: Nagina (Muslim voters 68%); Nihtore (42%); Rampur Maniharan (38%); Balha (35%); Milk (32%); Balrampur (32%); Hastinapur (31%); and Dhannaur (31%).
But what is more surprising is that 32 of these seats which are not reserved, did not elect a Muslim candidate for the Assembly last time i.e., 2012. These segments (with proportion of Muslim voters given in brackets) are:
Kairana (63%); Thakurdwara (52%); Sahibabad (49%)
Bihat (50%); Deoband (48%); Qaiserganj (45%)
Dhampur (43%); Saharanpur Deh(44%); Meerut (43%);
Noorpur(41%); Bareilly Cannt (40%); Gainsari (39%);
Bareli Town (39%); Ismouli (39%) Itwara (38%);
Talahar (36%); Bhanga (36%); Bijnore (35%);
Nanpara (35%);
Nawabganj; Meerut Cantt; Meerut South; Shamli, Saradana (all 33%)
Garh Mukteshwar, Muzafarnagar; (both 32%);
Nikaur; Harchandpur; Bithari Chainpur; (all 31%;
Bilaspur; Gangoh: Shahratgarh; (all 30%);
All that it means is that of the 68 Assembly segments where Muslims are in such numbers that they can elect one of their own candidates, they are being represented by non-Muslim MLAs. It is all owing to the fact that 12% of them are reserved for the SCs while in another 48%, they have taken no interest and have not initiated any steps to consolidate their votes in favour of a single candidate who can represent their grievances effectively.
20-28% Muslims in 89 Segments
Besides these, there are another 89 Assembly segments in UP, where Muslims represent 20 to 28% of the voters. Even here the community can consolidate its voting strength to elect a candidate either from the community or one who can effectively represent them. Currently, of these 89, only 18 have Muslim MLAs. Eleven of these seats are reserved for the SCs. The seats where they were not able to elect a Muslim representative are:
Rudauli; Barkhera; (both 28% Muslims);
Meerapur, Mehdawal, Anupshahar, Barabanki: (27%);
Dhaulana, Siwata: (26%);
Shahjahanpur, Dadarul, Bishwanathganj, Chaprauli, Gonda, Mehnaun, Shekhupur, Mahmoodabad, Baghpat: (all 25%)
Lucknow East, Mahasi, Badaut, Biswan, Piyagpur, Lucknow North, Sarojini Nagar, Lucknow Central, Ferozabad: (all 24%);
Lucknow Cantt, Modinagar, Anola, Dataganj, Ferozabad: (all 23%);
Katra Bazar, Ramnagar, Sultanpur, Kidwainagar, Bansi, Chhatra, Lakhimpur, Nizamabad: (22%)
Azamganj, Nautanwa, Gauriganj, Karnelganj, Barauli, Allahabad West, Allahabad North, Patiali, Daryabad (all 21%);
Ghaziabad, Paliya, Khadda, Padrauna, Sitapur, Ghosi, Pratapgard, Varanasi Canntt, Dhaurhara, Sivapuri, Kushinagar, Varanasi East, Rauhaniya, Shivpur, and Fazilnagar (all 20%);
Analysis shows that 83 of these 89 seats are not represented by Muslims in the UP Assembly. It is understandable that 12% of the seats are reserved for the SCs, hence could not elect a Muslim. But in 71% of the seats, Muslims could not think of a common strategy to unite their choices on one candidate, hence they go without Muslim representation despite the community commanding 25% votes.
Even in other seats, Muslims constitute 15 to 19% in 44 segments, and 10-15% in 91 segments and 5-10% in 108 segments. Even here they can influence the trend of voting in favour of secular parties.
Pressure on Secular Parties
The community should exert pressure on the secular parties to put up a Muslim candidate on those 68 seats where Muslims constitute between 35 to 68% voters. They should nominate a Muslim candidate on at least half of the 89 seats where Muslims represent 20 to 30% of voters. In case they are not persuaded by this view, Muslims should consolidate their choices in favour of some independent Muslim candidate or candidate of a party which is committed to address their concerns. The Muslim votes have been swinging between regional parties of Uttar Pradesh without bringing them any development dividends for the last quarter century.
Don't Outsource Leadership
Muslims should now take up two initiatives, first to organize voting by cent per cent Muslim voters, and take the women of the household to the polling booths. Preparations should start for the voting, days ahead of elections. Secondly, they should try to unify their choices in a particular constituency in order that a candidate of their choice receives consolidated support of the community. During the last elections, the Muslim electorate of the Bhojipura, Tulsipur, Kathore, Mirgan, Aligarh, Lucknow West, Allahabad South and Didarganj took some measures to homogenize the Muslim choices and succeeded in getting a favourable candidate to win the election. The Muslim voters from Thakurdwara, Qaiserganj, Bijnore, Nanpara, Nawabgang, Meerut Cantt., Parchandpur, Anola, Karta Bazaar, Rauhaniya and Fazilnagar should review their voting records of the past elections in order to ascertain their choice for the candidate beforehand. The community should seriously do some soul-searching and should not allow outsourcing of their leadership to other communities.
Now that we know for sure the situation of Muslims in matters of education, employment, economic status and representation in Government services, how could we sit content and allow fruits of national development to elude us and our rights being trampled upon. One should not turn a Nelson's eye from elements within the community who are out to spread confusion and obfuscate the objectives of our struggle.
All Forums for Unity
Prime need of the hour is to bring a turnaround in the fortunes of the community and enable it to regain its Constitutional status. If people from across the nation could be brought together through Yoga, why not utilize the Namaz to consolidate the community members. If a community which deserves to have 70 of the Lok Sabha seats is reduced to less than half its numbers, then it is time sit up and take notice that the promised dividends of democracy are not reaching it. This is certainly not a privilege of democracy, but the enslavement of a social component which goes unrepresented.
Muslims should even prepare their own Manifesto for the 2017 UP Assembly elections in order that the parties that are looking for Muslim support could align their manifestos in keeping with the aspiration of the community. If Muslims raise a demand for reservations in Uttar Pradesh, it might lead to counter polarization of votes in favour of the communal forces. This would be harmful for us. I may focus on issues that are more important than reservation in the State in my write-ups in future. Let me conclude with the appeal that we need to make a decisive step towards consolidation of our choices at every constituency level and should not allow the opponents to take any advantage of our disunity.
(Note: The author is a former IRS officer and was a member of the Sachar Committee. He heads the Zakat Foundation of India, Delhi. The article appeared in Urdu daily Rashtriya Sahara in its edition dated 27th July, 2016 and has been translated in-house by Islamic Voice.)