With Manna raining ceaselessly from heavens, the people have forgotten the ruinous floods in Chennai.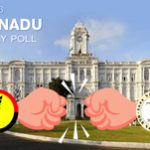 By A Staff Writer
Ideology is yet again taking a back seat in Tamil Nadu where the election for the 234-seat Assembly will take place on May 16. The two major regional parties i.e., DMK and the AIADMK are face to face in nearly 170 to 173 seats. With AIADMK appearing least burdened with incumbency pressure, DMK is clearly a worried side. It has taken the Congress along and seeks to put up a formidable fight against the AIADMK.
Confident AIADMK
Floods in Chennai, corruption charges, jail sentence and finally incumbency seem to have failed in dimming the AIADMK's confidence any bit. The party is clearly the frontrunner in the state inasmuch as it spurned the offers of alliance with even the BJP ruling at the Centre. The AIADMK has left just seven seats for its minor allies.
Voters have been flooded with promises of welfare schemes. The State was the first to introduce the midday meals scheme during the legendary Chief Minister MGR's tenure in late 1970s. It boosted enrolment as well as attendance in school and placed Tamil Nadu in the category of most literate states. Now the DMDK, the party headed by film actor Vijayakanth, has added 'nutritious breakfast' for school children. DMDK is now part of the People's Welfare Front which has both Communist parties, MDMK led by Vaiko, besides the Viduthalai Chiruthaigal Katchi (VCK).
A Third Front Too
While DMK (plus Congress) and the AIADMK are main contenders, of course with minor allies hitching onto its coattails, PWF cannot be dismissed. DMDK remains its major hope. It has emerged as the third front in the fray. The party had aligned itself with the AIADMK in 2011 Assembly elections and polled as many as 30 lakh votes and 29 of the 41 constituencies it contested. It took the principal Opposition slot in the Assembly, pushing the DMK to third position. It hit a rough patch when Jayalalithaa ended alliance with it. Vijayakanth lost his Opposition leader status in February this year when eight of the party's MLAs resigned from their seats.
Of the 235 seats on offer, the DMK has assigned 41 to Congress, five to Indian Union Muslim League, five to Manithaneya Makkal Katchi headed by M H Jawahirullah and a few to the Puthiya Tamizhagam. Though 91-year old grand patriarch Karunanidhi is still around leading the DMK's campaign, he is all likely to pass on the baton to son and heir apparent M. K. Stalin, regardless of party coming to power or not.
Freebies Galore
AIADMK leader and Chief Minister Jayalalithaa, fondly called 'Amma', still enjoys huge popularity what with hundreds of Amma Unavagam (Amma Restaurants), Amma Kudineer (Amma Drinking Water), 20 kgs of free rice reaching vast number of poor electorate regardless of their political affiliations. The efficient delivery system has come in for a lot of praise, though there are enough number of questions if this subsiding culture makes any sound economics. Since both parties vie with each other in promising freebies, not much criticism can be heard publicly. Going one step ahead, the PWF has even promised 'nutritious breakfast' for school kids upon arrival at schools. Both major parties have promised 'total prohibition' in the State, something that was withdrawn after several years of being in force decades ago. How would the State find alternative sources to recoup losses to the tune of Rs. 22,000 crore? There are no answers from both the contenders. Women's votes are tied to this poll promise.
No room for Communalism
A major casualty of the election in the State would be the BJP which has found no takers for itself. Catholicity of political outlook within the larger Tamil fraternity makes communal plank irrelevant. The ease with which small Muslim parties such as Indian Union Muslim League or the MMK have switched alliances over the last few elections goes to prove that major parties do not set much store by acceptance or rejection of these outfits within their fronts. But Jayalalithaa has been more scrupulous this time. She neither allowed the BJP nor the Muslim League to hinge any hopes on her. Whatever may be her political idiosyncrasies, the lady has not tolerated any kind of communalism and has firmly kept the anti-social elements""most of whom owe allegiance to her major rival DMK""under check. No wonder then why there is no particular love for religious or communal brand of politics among the masses. Some like the IUML, however still thrive, in the hope of cashing in on the remnant legacy of late Muslim League leader Mohammed Ismail, a member of the Constituent Assembly and a parliamentarian.
Regional Flavour
Elections in Tamil Nadu have a distinct regional (read Dravidian) flavor. Since 1967, when the Congress was ousted from power, the two major parties have taken turns to rule the state. The politics revolves round personalities rather than any ideology. It is one reason why the mainstream national parties are in wilderness as far as the State goes.
Jayalalithaa is seeking election from Radhakrishnan Nagar in North Chennai. Pitted against her is V. Vasanthi Devi, fielded by VCK. She is a former vice chancellor and has headed women's commissions. Shimla Muthuchozhan of DMK and Naam Tamizhar Katchi's Devi, a transgender are also in the fray. Stalin is fighting election from Kolathur and his father Karunanidhi from Thiruvarur, his home constituency in Thanjavur district. If Karunanidhi wins, it will be his 13th victory in the Assembly elections. DMDK's Vijayakanth will contest from Ulundrupet in Villupuram district.
The AIADMK has a clear edge as of now. Jayalalithaa basks under a benign image of benefactor of poor masses, delivering them food, bicycles, free grocery and subsidized housing.