The nearly 120-year old Muslim Orphanage in Bangalore has failed in its task of turning out self-respecting and qualified individuals.
By Maqbool Ahmed Siraj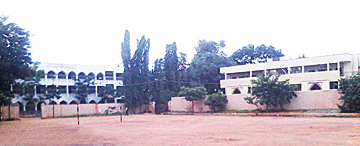 The Muslim Orphanage, nestling in the serene corner of Diskenson Road in Bangalore's Cantonment area, is an historic institution. But there rests its importance. It has refused to rise from history to repute. Historicity comes by itself and is acknowledged not to be a virtue. Reputation is gained through achievement which in turn is outcome of struggle and hard work. Only a combination of two""history as well as reputation""can lend an institution some element of notability. Alas, it has eluded it.
It was established on a picturesque plot of land in 1892 by philanthropists of yore. Since history is not the content of this exercise, I leave the readers to access it from the records of the institution.
Today, the Muslim Orphanage, currently under Wakf Board control, is home to less than 300 children (It used to be around 500 before the takeover). Girls are more numerous than boys, given the relative insecurity their parents feel in bringing them up in their congested shanties that once ringed the fringes of Bangalore. But urban sprawl has brought them within the core area of this big, bad city under the throes of unplanned growth. All inmates are Muslim and despite their being no bar against admitting kids from other communities, the challenge of tackling with diverse mores of children from diverse background, has kept its custodians from accepting them""and wisely so.
The founders of the Muslim Orphanage must be saluted for their philanthropy and for leaving for the posterity an institution well-endowed with assets capable of sustaining the institution in future. Despite frequent interventions by the inept Waqf Board, the Orphanage has been run smoothly, with inmates being looked after well. Kids indeed enjoy their stay there, though most of them leave its portals with little baggage of credits that could stand them in good stead in the practical sphere of life. The question then that must be asked is : What purpose running an Orphanage that refuses to produce human beings of any use to the society?
Sitting on the prime real estate, the Muslim Orphanage may be a cynosure of eyes of the developers and builders, but it is hardly rated more than an asylum for the kids ejected out of their homes sheer out of unaffordable economy of bringing them. Going by the background of most of its inmates, it hardly fits the bill for an Orphanage. At best, Orphanage is a misnomer. But more of it later.
Its dormitories provide a good dumping ground for the kids coming from homes of the indigent mothers, who in a good number of cases have been victims of domestic violence, dead, missing or alcoholic fathers or the ones rendered destitute due to economically irresponsible Muslim husbands. Given the privileged status and location of the Orphanage, the inmates here could well be considered the most fortunate orphans, for it is the most cherished destination for the charities from the Bangalore's Muslims elite. With 'dawats' (feasts) dime a dozen in the course of a month, food rains here by tons, almost drowning the inmates during Ramazan. Mattresses and state-of-the art kitchen, dining rooms and toilets leave nothing for imagination to desire by kids from the underprivileged sections. Basic life lived with enough assurance for the sustenance of body breeds insouciance in ample measure. Life for the inmates might be easy-going, but it certainly raises questions if the custodians and caretakers of the Orphanage behave in the same fashion.
Vision: They need to question as to why the Orphanage exists, what kind of products it is supposed to turn out and what values it needs to impart. Some of these questions have begun to prick the collective conscience of the Bangalore Muslims. These are legitimate queries and future would see the quest for an answer growing intense.
Muslim Orphanage has certainly failed to live up to the expectation. Its record in matters of production of human resources has been dismal. Not even the quality of human material that is fashioned here can be seen ideal to fit in the society. It will be an exercise in futility to carve out a vision of producing IAS and IPS officers out of these inmates and an institution that is far from imparting good education to its inmates. Some administrators have been more precise in their aim of just producing 100 per cent SSLC result from its school. Such simplistic ambitions make a mockery of the outcome and output desired from it. An institution dedicated basically to provide asylum to kids discarded by a society, is in no position to churn out individuals with energy required for ambitious individuals. It is misfortune that the Muslim Orphanage has failed to carve a vision for itself beyond taking care of the kids from children who have suffered the misfortune of losing their fathers (and mothers in exceptional cases).
Stresses on Developing Human Beings
Food and clothing are a small part of existence today in terms of development of human resources. An Orphanage or Children's Home is today expected to be a centre of holistic development for the children. Developing self-esteem is, therefore, prime requisite of such an institution. Sustained provision of food and clothing could well be the objective of an asylum. Self esteem is the sum total of education, skills, discipline, character, values and ethos developed at any such institutions. Inmates of an asylum tend to resort to beggary and inmates of remand home to criminal activities once the supply of the provisions are withdrawn. But a Children's home is expected to fill their inmates with hope, ambition, desire to be self-dependent, nay, to their being contributing members of the society. They should walk out of its portals with their heads held high in the air. They should thereafter join the alumni that comes back to the alma mater to be honoured. Their synergy spawns sources of mutual pride.
Unfortunately, the Muslim Orphanage has never spelled its vision in that many words, nor has risen above objectives put in simple terms nearly 120 years by its well-meaning, though inarticulate, founders. No wonder then why for a long time its wardens behaved none other than warders: herding the children in the manner of a flock of sheep, reprimanding the ones who deviated from the track and providing no vent for the inner energies of the kids.
The times we are now living in, is an era of fast changes. Every pie invested in development of human resources must yield results and should be accounted for. Assignments like food and clothing for kids from the poor and needy families are unbecoming of institutions that guzzle precious resources and presided by members of the educated elite. The Orphanage has lived off charities and revenue out of its assets for far too long a period to be left uncared. It must chart out a course, fix a vision, prepare a mission statement and designate targets. No institution that devours resources in such proportions can evade responsibility. Sure, development of human resources is not a business enterprise where returns are quick or could be quantified beforehand. It is also true that gestation period is long. Certainly, the outcome is doubtful, even if collective energy is invested in it with collective determination. But then we have ample evidence of hundreds of Christian institutions such as SOS Villages, Christel Houses, Cheshire Homes and even home for children of prisoners yielding returns in terms of self-respecting individuals and the pool of technically skilled and educated individuals among those communities reflecting certain value-oriented people and disciplined workforce. Alas, nothing of that sort is visible among Muslims. And Muslim Orphanage, the premier institution among them failing to set any glorious precedent, has been simply a disappointment.
Vision, mission statement and targets are the basic propellers behind an institution. Sadly enough, the Muslim Orphanage has miserably failed to shape any destination for itself in context to time and society we live in. Tossed like a football between the Wakf Board and an elected executive committee, the Orphanage has served more as a repository of kids from broken homes. It was often considered a source of sawab (divine rewards) by its rich patrons and a source of one upmanship among the social glitterati of the City of Gardens. Those deprived of a foothold in its administration have not stopped of dubbing it a 'Club of Crorepati Muslims'.
If indeed the fortunes of these hapless kids have to see an upswing the new executive meeting, which might be in office in three months from now hopefully, should initiate some of the measures:
1- Legal steps should be initiated in order that Waqf Board should never be able to take over its administration. Wakf Board tenures have proved devastating for the Orphanage. Chairmen and administrators have tried placing their own relatives as teachers, wardens and clerks. Wakf Board has been more hindrance than help in management of the Orphanage. Scope for disaffiliating it from Wakf Board and bringing it under Department of Women and Child Development of the Government of Karnataka should be explored.
2- Only degree-holders should be made General Body members. Executive members not attending the regular meetings should be expelled after absence in five consecutive meetings.
3- Only qualified wardens, mainly with BSW degrees should be recruited for future mentoring of the kids. The unqualified among the present staff must be diverted to other assignments.
4- The Higher Primary School within the campus should be turned into English medium school. The State DPI is averse to sanctioning English medium. Efforts should therefore be made to affiliate the schools to CBSE and provision should be made to teach one additional language which could be Urdu.
5- Government teachers are thoroughly incompetent. Since it is a private-aided school, the teachers are not afraid of transfers. The Orphanage should refuse the government aid and return the government teachers for the High School to the Department of Public of Public Instructions both from the higher primary and the High School.
6- The current teaching of Islamic syllabus by maulvis is on traditional line i.e., rote learning. They need to be replaced with English-knowing Islamic teachers cum mentors and also introduction of English medium Islamic syllabus.
7- Children are being fed colossal amount of rich food. It must be avoided. The food should conform to some nutrition regimen formulated by a qualified dietician.
8- The rich of the city book 'Dawat' for every evening during Ramazan. The month sees heavy downpour of food. No amount of persuasion has discouraged the 'sawab-seekers'. People should be asked to make commensurate donation. No outside food should enter the campus. And no food should be allowed to go out of the premises. There should be no deviation from the scheduled menu.
9- Children being inmates lack exposure to the family and home life and essential mannerism. The mentoring through wardens should look into these aspects.