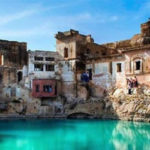 Islamabad: Pakistan's Supreme Court has expressed concern on absence of statues of Lord Ram and Hanuman in the Katasraj Temple complex in Chakwal district of Punjab province of the country.
The issue came up before the Chief Justice Saqib Nisar while hearing the case of drying up of the kund (Pond) of the famous temple complex sacred to Hindus of Punjab region in both India and Pakistan. Justice Nisar commenting on the drying up pond asked the authorities if the statues of Lord Ram and Hanuman are in place at the complex or even these have been displaced.
Scenic Katasraj Temple Complex in Pakistani Punjab
The case of drying up of the sacred pond came up before the Court in recent months. It is attributed to several cement kilns coming up in the surrounding areas. Excessive drawing up of water has led to drastic fall in the groundwater table in the region leading to drying up of the pond. In an earlier order, the Court had ordered the Punjab Government to initiate measures to see that supply of water to the pond does not get sucked by excessive drawing of water in the nearby area.
Katasraj temple is dedicated to the worship of Hindu deity Lord Shiva and the pond is believed to represent the tears of the deity.
In another development, Pakistan unveiled the remains of a 1,700-year-old sleeping Buddha image on November 15 as part of an initiative to encourage tourism and project religious harmony in a region roiled by Islamist militancy.
A reflection of the diverse history and culture of the South Asian country, the ancient Buddhist site in Bhamala province was first discovered in 1929. Eighty-eight years on, excavations resumed and the 14-metre-high Kanjur stone Buddha image was unearthed, and opposition leader Imran Kahn presided over November 15 presentation.
"This is from the 3rd century AD, making it the world's oldest sleeping Buddha remains," Abdul Samad, director of Bhamla's archaeology and museums department, told mediapersons.
"We have discovered over 500 Buddha objects and this 48-foot-long sleeping Buddha remains," he added.