Although there are four seats reserved for minorities in the House, Kumari has been nominated from a general seat.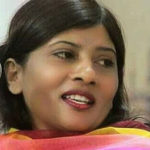 Karachi: Pakistan People's Party has nominated Krishna Kumari, a Kolhi woman belonging to a remote village in Nagarparkar district of Thar, to contest for a general seat during the upcoming Senate election.
Senate is the upper house (Aiwan e Balaa) of Pakistani Parliament. It has 108 seats. Of these, 23 senators each represent all the four provinces i.e., Punjab, Khyber Pakhtunkhwa, Sindh and Balochistan. Another eight senators are elected from Tribal areas. Islamabad capital region is represented by four members. Four seats were increased in 2010 for including non-Muslim members through Eighteenth Amendment Act of Pakistani Constitution. However, Krishna Kumari is contesting for a general seat and is all likely to elected to the Senate.
Kumari is a social activist who joined PPP along with her brother, who was elected chairman of union council Berano. She has reportedly been asked by the party leadership to file nomination papers to contest the upcoming Senate election on PPP ticket.
Born to a poor peasant Jugno Kolhi in 1979, Kumari and her family members spent nearly three years in a private jail allegedly owned by the landlord of Kunri of Umerkot district. She was a grade 3 student at the time when held captive.
Kumari was married to Lalchand at the age of 16, when she was studying in 9th grade. However, her husband supported her in pursuing studies, as later in 2013, she did masters in sociology from Sindh University. She also actively participated and worked for the rights of downtrodden people of marginalised communities living in Thar and other areas.
When contacted, Kumari told Karachi daily Dawn that she was given assurances by senior party leaders that they would get her elected as Senator "to set a new precedent and empower women from remote areas and minority communities".
"I was called by Bilawal Bhutto and Faryal Talpur a few days back. They said they will allot me the ticket to contest the election to become a senator on a general seat from Sindh," Kumari maintained.
PPP lawmaker from Thar Dr. Mahesh Kumar Malani, confirmed that the party had decided to give Kumari a ticket and hoped that a Kolhi girl "" from the family of the valiant freedom fighter Rooplo Kolhi "" would be elected with majority votes.