Japan Welcomes Muslim Travelers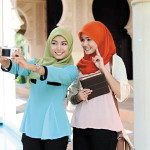 Tokyo: Amid growing outrage over the controversial statement by the US Republican presidential hopeful, Donald Trump about not accepting Muslim travelers and immigrants to the country , Japan has quietly been welcoming them as they present an opportunity for the country to boost its economy. The government's initial target was 20 million tourists a year by 2020. However, the number of visitors has exceeded all expectations. The target of 20 million may be achieved this year itself, much ahead of schedule. This has encouraged the government to revise its target to 30 million visitors by 2020.
Malaysians and Indonesians have a major role to play in the increase of the amount of Muslim travelers. According to Japan National Tourism Organization (JNTO), there has been an 18.2 percent increase in the number of Malaysian tourists visiting the country until the end of October 2015. On other hand, the number of visitors from Indonesia jumped by as much as 30.8 percent. In total, 270,000 Malaysians and nearly 200,000 Indonesians have visited Japan up to October this year. Of course, a smaller number of Muslims from other countries have also visited Japan. Prefecture published a Muslim Hospitality Handbook to teach the local people as to how they should deal with Muslim customers. A start-up company named "Travelience" has started offering one-day Tokyo tour to Muslim tourists. To cater to the Muslim travelers, the guides learned about halal food and the company designed a special package for Muslims.