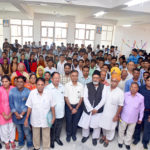 By A Staff Writer
Jodhpur: The Maulana Azad University will set up the Faculty of Agriculture and Animal Husbandry from the 2018-19 academic session. This was announced by University Chancellor Mr. Atique Ahmed at the valedictory session of the two-day Agricultural Scientist's conference held here on August 25-26. Mr. Atique told Islamic Voice over phone that the faculty would first start short term diploma courses such as compounder and pharmacists for Veterinary Hospitals and such other skills. In due course, B.Sc Agriculture and BVSc courses too would be started.
Over 40 prominent agricultural scientists participated in the conference and discussed the emerging opportunities in the fields of agriculture, animal husbandry, livestock and veterinary sectors.
The conference was organised at the Maulana Azad University's new campus at Bujhawad village.
Vaigyanik Kissan, a Hindi book, recording the success stories of 17 farmers from seven states was also unveiled at the conference. Moinuddin Chishty, a journalist specialising in agricultural reporting was also felicitated and conferred with Maulana Azad Youth Icon Award.