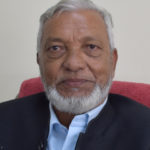 Bengaluru: Dr. Syed Qadeer Sargiro has been appointed the new Chairman of the Karnataka State Urdu Academy. Last incumbent Mr. Azeezulla Baig had demitted the office on May 31 on expiry of the term.
In its first meeting on October 25, after the constitution of the new committee, the Academy has decided to hold a Mushaira in Kalburgi; organize a teachers' workshop in Shivamogga for 60 participants; set up 10 centres for 'Urdu Seekho aur Seekhao' for learning of Urdu (open to all regardless of age and gender); convene a seminar on Maulana Abul Kalam Azad in Vijayapura; and hold an Urdu-Kannada Mushaira (venue not decided).
Dr. Sargiro addressing a press conference on October 26, said the Academy plans to send a member of the Academy to Khuda Bakhash Khan Oriental Public Library in Patna to inspect the manuscript and printed material pertaining to Tipu Sultan and procure its copies for research purposes in Karnataka. He said a five-member delegation of the Urdu Academy will participate in the Jashn e Rekhta's fourth edition in Delhi being held in December. He informed that a seminar on Urdu Marsiya (Monody) will be held in Mysore.
Sargiro said the award presentation ceremonies of the Academy could not be held for awardees of 2014-15 and 2015-16 due to unavailability of the Minister for Minority Affairs. He said he will expedite the process and seek the relevant minister's appointment for the same at an early date.
He said the last State Budget had allocated Rs. 2.15 crore for the financial year, 2017-18. Following have been appointed the new members of the Academy besides the Chairman: Mr. Zaheer Ranibennuri, Mr. Siraj Wajhi, Waheed Wajid, Mr. Mohammad Aslam, Nayeemulla Khan, Mr. Mubeen Munawar, Ms. Fathima Zohra, Mr. Suhail Nizam Burburi, Mr. Syed Shaffi Ahmed, Mr. Mr. Syed Ahmed Rizwan, Mr. Syed Abid Aslam and Ms. Fareeda Rahmatullah.