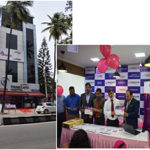 Bengaluru: The Primecare Hospital's Embrace unit celebrated on July 11 the centenary of births on completion of a 100 deliveries ever since the hospital was commissioned in January this year. Embrace had the first baby delivered on the day of inauguration.
Dr. Syed Naveed Azam, Group Medical Director says, the Hospital located in Frazer town had several twins, premature newborn and high risk deliveries with 100 per cent successful outcomes.
The hospital run by the Primecare India will soon be opening two more units at Jayanagar and Banaswadi. He said the hospital which specializes in providing healthcare on lines of neighbourhood hospitals, plans to widen its network in the city throughout the city. He said while the existing Frazer town unit has 26 beds, the one coming up at Jayanagar would have over 50 beds.
Replying to a question on ratio of c-section vs natural births, Dr. Yunus Kafil, Director Maternity and Paediatrics, said of the 100 deliveries, 46 were through c-section but hastened to add that some of them were second c-section deliveries (having the first child also through caesarian procedure. He said the Hospital followed high professional ethics and avoided the market-driven practices. He informed that on an average, the women undergoing c-sections stayed for 72 hours in the hospital premises while in case of normal deliveries, the average period of stay ranged from 24 to 48 hours. On an average, the normal deliveries cost around Rs. 19,000.
(Report by A Staff Writer).