National Law School to take up Research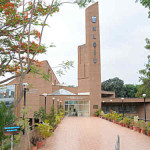 By A Staff Writer
Bengaluru: The National Law School University of India (NLSIU) would institute a special Chair to issues related with study of religious minorities. The chair would be under the Centre for Study of Social Exclusion and Inclusive Policies (CSSEIP) in the University. The Chair would receive annual recurring grants from the State Government for the purpose. This was announced here on December 18 by Minister for Minority Welfare and Municipal Administration Mr. Qamarul Islam while addressing a ceremony organised to observe International Minority Rights Day in the Vidhana Soudha. The proposal to this effect had been presented to the Department of Minority Welfare by Dr. S. Japhet, Director, CSSEIP some time ago. Dr. Japhet said the Centre would take up studies for promoting socio-economic and educational development of the religious minorities under the Chair.
Chief Minister Siddramaiah who addressed the gathering, said it was for the majority community to instil the sense of confidence among the minorities.
Dr. Qamarul Islam said the allocation of considerable amount of funds for the Minority Welfare Department has made it possible for the students of the religious minorities to study up to the highest level with the help of scholarships in the state. He said 184 minority candidates were sanctioned amounts ranging from Rs. 10 to 20 lakhs to study overseas this year. He said Karnataka has emerged a model state with regard to welfare of minorities and statistics reeled out before Union Minister for Minority Welfare Dr. Najma Heptullah drew appreciation from her.
Dr. Islam disclosed that Rs. 75 crore have been sanctioned under Chief Minister's Minority Welfare Fund this year which will be spent on education, housing and health facilities. He said minority candidates undergoing coaching for Civil Service exam at Hyderabad and Delhi were being provided scholarship to the tune of Rs. 13,000 a month.
It was for the first time that the Karnataka Government observed the International Minorities Rights Day officially.