Work on revamping Mumbai's famous Bhendi Bazaar is going on full stream to relocate the businesses and the people.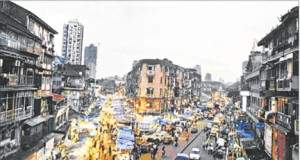 All families will be provided bigger and better accommodation in close vicinity of their businesses.
By Qureish Raghib
Mumbai's Bhendi Bazaar is a picture of chaos. No hour of the day is dull here. Cacophony reigns supreme and traffic din never dies down. The current name is said to have its origin in the bhendi (lady's finger) plantation in the northwest of Dongri. The British developed this irrigation tract to resettle communities affected by the Great Fire that broke out in 1803 at the British Fort area. It soon began to attract commercial establishments and by the end of the 19th century was a bustling business district in South Mumbai.  
Surprisingly, even with its 200 years history of characteristic entrepreneurial resilience, Bhendi Bazaar has gradually sunk in an abyss of civic neglect and infrastructural disrepair leading it to be seriously challenged in a liberal Indian economy.
But thanks to a Rs. 3,000 crore project launched by the Saifee Burhani Upliftment Trust, the area is undergoing a total revamp. To be built in nine clusters comprising 17 towers of 20 to 40 storeys and spread over 16.5 acres, the project will provide residential space for the existing 3,200 families and office space for the 1,200 retail outlets operating out of the crowded area. Planned at an 80:20 (80 per cent will go to the present occupants and SBUT will sell the other 20 per cent at market rates) ratio, all the occupants of the 4,400 units "" some 25,000 in all "" have been promised "bigger and better premises".
Interestingly, even during the global economic slowdown that affected Indian market growth in the last decade, this 16.5 acres area having distinct business dynamics, saw economic reforms such as diversification and new business ventures even while access to credit facilities was minimal. This largely has been possible as over 50% of the 1,250 commercial establishments in the project area are owned by Dawoodi Bohras – one of the oldest mercantile communities that first settled in the city during the 18th century. Known for their business acumen, Dawoodi Bohra businesses in Bhendi Bazaar and elsewhere have grown exponentially by benefitting from the Qardan Hasana Trust, a global financial institute established by the community's spiritual leader Syedna Mohammed Burhanuddin. The trust facilitates short and long-term interest-free credit disbursement, which in turn, helped in arresting larger effects of recession, and facilitated capital inflow in the area.
Apart from the traditional business of hardware tools, artifacts bazaar, the Friday flea market, there has been an increase in pilgrim tourism due to the religious and cultural centers situated in the area like the mausoleum of Syedna Taher Saifuddin called Raudat Tahera. Taking into consideration all these socio-economic dynamics, mainstream market players particularly from the service and hospitality sectors along with small manufacturers have put-up outlets in the area providing job opportunities and alternative source of income to many a household in Bhendi Bazaar.
However, be it petty shopkeepers or value added service providers depending on elite clientele or businesses requiring spacious floor-space""all macro and micro market players have adversely been affected due to diminishing urban facilities in the vicinity.
With an overall 74% ground coverage, the present 66,264 sq. m. area has one of the highest population density in South Mumbai. Interestingly, the Bhendi Bazaar redevelopment project will have a 54.55% ground coverage post redevelopment. The project, according to the widely used economic theory, is constrained optimization. It represents arriving at a set of best solutions to a matrix of problems.
From a purely economic perspective, the non-profit redevelopment initiative in the area would shift the perfectly inelastic supply curve of commercial and residential land to the right. This would lead to an increase in consumer surplus to the residents and additionally provide positive externalities to the surrounding areas such as over 15-metre wide internal peripheral roads for vehicular movement, separate loading-unloading facilities for commercial vehicles and 1,17,153 sq m of much needed parking facility in the area.
Apparently, unlike the present inequitable market scenario, both complementary and substitute goods' stakeholders in the neighborhood are to be provided with shops strategically facing the main roads. The economic evolution of Bhendi Bazaar from a typical, unplanned bazaar to having Mumbai's longest high-street shopping area would serve both purposes of retaining to a great extent the flavor of the traditional bazaar as well as provide a contemporary business environment.
In essence, Bhendi Bazaar's parameters of economic growth are largely defined on the lines of the area's cultural and social vibrancy. The fact of the matter is, while all heritage religio-cultural structures situated in the vicinity are to be retained, all legitimate businesses and cosmopolitan residents would also be relocated back in the same locality. These phenomenal factors would, without doubt, reinstate the unique cultural flavor, and reinforce Bhendi Bazaar's past business glory.
A broad observation is, there is an evident absence of quality shopping area catering to the simultaneous needs of all strata of society in a three km radius around the proposed 3,000 crore Bhendi Bazaar redevelopment site. With an average one lakh footfalls registered a day now, a conservative approximation of a three-fold commerce and trade growth tends to be a reasonable prediction consequent to a much broader customer base post-redevelopment.
Subsequently, economic stimulus will be in employment gains, leveraged investment, and revitalized neighborhoods while fiscal impacts would include generating new sources of local revenue derived from previously less productive establishments.
On a larger canvas, even as a small minority has offered reservations advocating for preserving the 'natural fabric of the city', they do not in turn have any credible solutions to offer in correcting the colonial era's deteriorating long, linear stretches that make up this area. At stake are 80% of decrepit buildings that threaten human lives and have required constant repairs, compounded with critically congested 150 year old arterial roads. All this cumulatively pose serious risk to human life and property. The question that begs to be answered is whether or not the residents of Bhendi Bazaar have a right to a better quality of life as their forefathers did a century ago?
Meanwhile 800 families have already been moved to a temporary transit provided by a Maharashtra Housing and Area Development Agency (MHADA) even while the area and their residential accommodations undergo the revamp.  The Project is headed by Abbas Master, a post-graduate from Virginia Tech University who returned to Mumbai after working for several years in the US.
The writer is a Mumbai based commentator.