Seminar on Urdu Medium Education
By A Staff Writer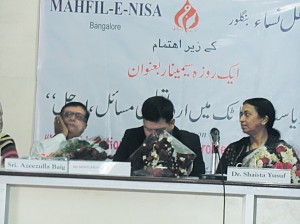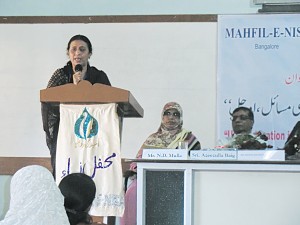 Bangalore: Concern was expressed on the pathetic state of Government Urdu Schools in Karnataka at a seminar organized by Mehfil e Nisa on March 15. Mr. Mohammad Mohsin, Commissioner for Education speaking at the seminar said no comprehensive report on the quality of education in Urdu schools has ever been prepared. He regretted that most teachers come to him for promotion or transfer, but have never with any concrete proposal for enhancing the quality of education in these schools. He said there were 34 Deputy Directors of Public Instructions (DDPIs) overseeing the Government schools all across the state, but not one among them has ever assessed the situation of Urdu Schools.
Mohsin said several NGOs get educational institutions sanction with a minority status, but when it comes enrolling students, seats are sold to the highest bidder which does not help the minority sections.
Mohsin, who presented the keynote address at the seminar, said high degree of laxity and callousness was found among the Urdu. He said absenteeism was rampant and even those teachers present at the duty were any way not teaching the students.
Mr. Syed Mohammad Beary, Managing Director, Beary's Group, said the Urdu school teachers should develop sincerity and dedication towards the duties.
Dr. Halima Firdose presented an analysis of saffron ideology in the textbooks in Karnataka. She said irrational beliefs, extremely tough terms, distorted facts from history were part of Urdu syllabus. She said the books condemn non-vegetarian diets and project Yusuf and Maryam to be parent of Hazrat Isa (Jesus).
Mr. Faiyaz Qureshi, social activist who read a paper on physical amenities in Government Urdu Schools said most Govt Urdu Schools were located in dilapidated buildings, and absence of separate toilets for girls led to their leaving the schools. He said in several schools several classes are held in a single room and students nothing but cacophony for lessons. He said while Karnataka has reported better conditions of Government Schools among the eight physical facilities stipulated under the Right to Education Act, most Urdu schools suffer due to lack of monitoring and casual attitude of teachers who are paid substantial salaries.
Mr. Azeezulla Baig, IAS (Retd.) said there 5,251 Urdu schools in Karnataka where 108,000 boys and 266,000 girls were studying. But most of them were in rural areas and small town while in major cities, the trend was to send the children from Urdu speaking families to English schools. He said it was tragic that Urdu has lost its place in its bastion, Uttar Pradesh and Bihar and gained ascendance in states of Deccan plateau i.e., Karnataka, Maharashtra and Andhra Pradesh. He said drop out rate was high among Urdu population and by the time the students reached 10th standard, only about 15% students remained.
Mr. Maqbool Ahmed Siraj, journalist, who read a paper on 'Nurturing Professional Excellence in Urdu Journalism', said trend of 'paid news' was catching up among Urdu newspapers as Urdu journalists were paid very small remuneration. He said although both Urdu and English were non territorial languages in India, English journalism as well as teaching has only seen progress while space for Urdu has shrunk. He pointed out that while one would like to choose English newspapers for advertising the need for officers, manager and executives, Urdu newspapers were chosen for vacancies for drivers, peons and sale of scrap and old motor scraps. He said Urdu has lost its secular status as no mentionable writers from non-Muslim communities have entered into Urdu's sphere. He said Urdu newspaper distributors were also responsible for commercial failure of the Urdu journals and newspapers. He said the Urdu dailies recycle and publish articles from dead people while journalism is for those who are alive and agile. He said professional training was need for Urdu scribes in translation from English and coining new words with the aid of Persian prefixes and suffixes. He said by 2025, most newspapers would shift completely from newsprint to various electronic reading devices such as tablets, mobile phone and laptops and this would be a huge challenge for Urdu newspapers.
Mr. Ejaz Ali, vice president of the KPCC Minority wing declared that he would present a cheque of Rs. 50,000 for anyone who came away with implementable suggestions to improve the status of Urdu schools. He said there were 5,000 vacancies in Government Urdu Schools alone.
Ms. Nuzhath Tabassum from Channapatna introduced several schemes that remained from being implemented to improve the quality of education in Government schools.
Dr. Mahanoor Zamani Begum, Prof. Zameera Begum, Prof. Ishratunnissa, Dr. Zubaidah Begum, Mirza Azmathullah of Karnataka State Urdu Academy, Mr. Iqbal Ahmed and Shakira Begum Saba presented their papers on various aspects of Urdu medium education in the state. President of Mehfil e Nisa, Dr. Shaista Yusuf presided over the seminar. Ms. Farida Rahmatullah moderated the programme and proposed a vote of thanks.