Zan's task is to build an audience by developing cutting-edge shows on issues affecting Afghan women.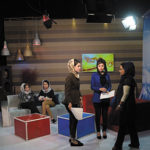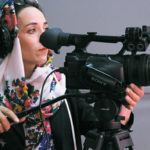 Zan TV launched in Kabul, Afghanistan, some months ago, is the first TV station in Afghanistan to be made for, and run entirely by women. It's a bold initiative for a country where the television industry is run solely by men and where just some years ago, journalism and even access to education for women were banned. "We want women to have an active role in politics and society," says Nasrine Nawa, Zan's director of news programming. "We're empowering them to lead independent lives outside the home."
Nawa's mission is to train the next generation of female Afghan journalists. Some fifty women aged 17 to 28, work for Zan, half are qualified, half are learning on the job. "Many trained journalists are jobless because most TV stations won't employ women, so we do. We also want to train young women who might not have access to education because of where they live or their family," says Nawa. Zan also employs 10 men to train women in operating cameras and editing film.
Afghan Media Landscape
The TV station was founded by the media entrepreneur Hamid Samar, who saw a gap in the market when going through dozens of job applications from women at another TV station. The Afghan media landscape is already packed, with about 70 satellite TV stations, and competition for ratings is rife. Zan's task is to build an audience by developing cutting-edge shows on issues affecting Afghan women. The most popular shows are the Daily News show hosted by Yasamin Yarmal and a weekly evening show that features conversations with Afghan women. Zan also runs a daytime cookery programme on how to make speedy healthy meals. In the evening, the hour-long entertainment show, In Focus recently showcased an all-female orchestra. "What makes us stand out is that we talk about everything that has touched women's lives," says Nawa. "Women have been a marginalised community for so long in Afghanistan. We want to prove they have the power to take control and change their lives, if they want."
Abuse Towards Women
For a new TV station, the ratings are impressive. According to Samar recently, an average of 90,000 people are tuning into the morning news programme. Mehria Azali, 22, is a journalist and presenter at Zan. She is keen to introduce a strong female narrative to the Afghan news agenda and explore issues such as underage marriage, rape and access to education. "During the Taliban's rule, women were wanted in the home to satisfy male needs," she says. "Things have got better, but rights for women are still very bad, especially outside Kabul. When they watch TV, Afghan women don't see issues that affect them being talked about. We want to change that."
In 2015, research by the NGO Global Rights found that nearly nine out of 10 women in Afghanistan were subjected to physical, sexual or psychological violence. Now, Nawa and her team are talking directly to those women. "A lot of abuse towards women is hidden by police, so we have a whole programme about justice for women," says Azali. "We want to lead by example of what women can be," she says. "Increasing their economic potential by showing them a new set of options."
Azali and Nawa also want to challenge the Afghan view of feminism. "Some TV stations in Afghanistan prepare reports about the abuse of women," says Nawa, "but they don't report everything as they don't want to be accused of being feminist. Most forms of women's empowerment are seen as divisive and anti-men, but we want to remove the negative attitude to women's issues in this country."
(Extracted from www.theguardian.com)