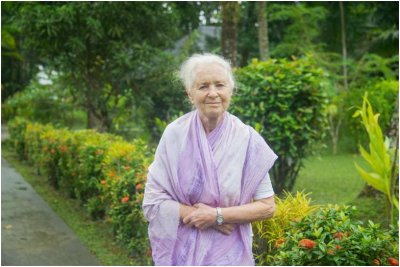 A British-Bangladeshi citizen has received the national identity card of Bangladesh as recognition for her social work. Lucy Helen Frances Holt, 90, came to Bangladesh, then East Pakistan, in 1960 when she was 30 years old. Leaving her parents and sister behind, she came to Bangladesh to serve humanity. She is not a nun with all vows but people regard her as a nun. She leads an ordinary life, did not get married and wears a simple sari and footwear.
The Bangladeshi government recognized her 60 years of service by giving her a Bangladeshi identification card on International Women's Day on March 8. "I'm not a nun but I wanted to be a nun. Becoming a nun is very time-consuming, so I developed myself as nun and I think I achieved my goal. I was with the Oxford Mission when it started in Bangladesh," Holt told UCA News.
Born in St. Helens in northern England on Dec. 16, 1930, she started work as a schoolteacher and women's development worker with the Oxford Mission in Barishal city in southern Bangladesh. She worked as a nurse during Bangladesh's War of Independence in 1971. She helped the Catholic-run Fatima Hospital in Jessore when it was short of medical staff to treat the injured in the war against Pakistan.
Reverend Philip Biswas, a senior pastor, said what Lucy Holt has achieved does not seem to be possible even for a regular missionary nun. "She has been in Bangladesh since the Oxford Mission started. A foreigner has played a leading role in the advancement of medical services, teaching and women's advancement and has been working with teaching and women since retirement," he said.
Barishal deputy commissioner Jashimuddin Haider told UCA News that "Sister Lucy" will get everything she wants from the Bangladeshi government. "She has shown how much she loves Bangladesh and shown her generosity to Bangladeshi people. We will never forget her. Bangladesh will remember her with respect," he said.
(Extracted from ucanews.com)