Dexterous leftie Sabiya has done Karnataka proud with her unique throwball playing skill in international tournaments.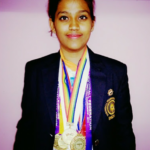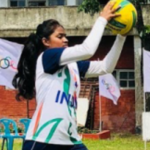 By A Staff Writer
She is just twenty something and has represented India in as many as seven international women's throwball championship events. Just back from Dhaka, Sabiya's fortunes have been soaring over the years, taking her from Colombo to Kuala Lumpur and Ahmedabad to Bangkok.
Throwball is a non-contact sport played across a net between two teams of seven players on a rectangular court. It is popular in the Indian subcontinent and was first played in India as a women's sport in Chennai during the 1940. The teams however carry 12 players as five replacements are allowed within a particular contest.
Sabiya played for India as part of a 12-member team at the 7th Tri-nation International Throwball Tournament at Dhaka's Government Physical Education College ground on July 13 and 14. Having lost the first of the three-set match, Indian team won the Tri-nation Trophy. Third amongst the teams playing was from Nepal.
Sabiya is currently a final year B.Com student at the Bengaluru's St. Joseph's College. Coming from a middle-class family from the HAL area, Sabiya's rise on the national level came through a series of local successes. She became the part of the Indian contingent while studying in the 7th standard at a local school for 7th International Throwball Tournament in 2013. Her talent was recognized and she was the youngest player in the team then. Later in the same year she was again part of the India's national team at the Quadrangular Women's Throwball Championship in October at Colombo. The team emerged the winner in the four-nation contest where besides India, there were teams from Sri Lanka, Pakistan and Bangladesh. She was declared the 'Best Player' owing to her left-handed service wherein she could spin the ball resulting in better points in the service stage itself. This lent the team tremendous advantage over the rivals.
There was no looking back since then. The year 2014 saw her participating in Indo-Maldives Throwball Tournament at Male and 10-nation 5th Asian Throwball Championship at Kuala Lumpur. She was in action again in Malaysia the next year in the First Asian Junior Throwball Championship. India won the championship and Sabiya was the youngest of the players. Her sixth international participation came at the Indo-Thailand International Throwball Championship in Bangkok in January 2017. Meanwhile, she was conferred with Kreeda Ratna Award for the year 2016 by the Government of Karnataka.
Alongside Sabiya has been a participant in many a Women's Football tournaments, both at state and the national levels and has represented her college in several inter-college and inter-university tournaments.
Sabiya's father Sikander has been running a tutorial institute at Konena Agrahara near HAL while mother Sofiya has been a homemaker. Sikander says funding all her international journeys had been tough for him as the game is not recognized at all levels. College and Throwball Federation chip in only marginally to help throwball players. Sabiya laments that Throwball is not recognized as an Olympic game and aspires to represent India if ever it gets such recognition with India being a participant. She says Haryana Government had been proactive in encouraging the game where each player being part of State team winning a tournament receives a cash award of Rs. 5 lakh.
For Sabiya the going had been tough as she had been attending classes and the national and international tournaments even while attending coaching camps at various cities in India. With nearly 50 medals in throwball, women's football, volleyball, badminton and athletics, she finds that the sports have only encouraged her to remain physically fit, manage time and develop discipline.
She can be contacted at [email protected].