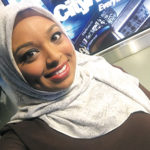 Toronto: Ginella Massa, a news reporter for CityNews in Toronto, recently anchored her first newscast in Canada, becoming the first hijabi Muslim to achieve this significant milestone. "I always wanted to work in broadcasting or media in some capacity, and my real desire was to be in front of the camera," Ginella says. "But in the back of my mind I worried about whether I could make it very far in hijab." Ginella, who became a role model for many Muslim women, gives credit for her professional success to her parents, especially to her mother.
"My parents always made me believe I could be whatever I wanted. My mom always told me that just because it hadn't been done before, didn't mean it wasn't possible," she said. "I think they believed I could achieve my goals even before I did."
Canada has been at the forefront of countries that have embraced pluralism, workplace diversity and employment equity.