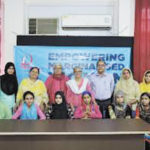 If Muslim adolescent girls who have dropped out are to be brought back into the educational stream, then it is important to open centres like Pehchan for girls inside the minority areas and encourage them to restart their education.
Pehchan is a registered trust. In 2011, it started working in Jaitpur, a resettlement colony near Okhla, in Delhi. Most people here are economically poor, and in almost every household are girls who are school dropouts. Their parents either cannot afford to send them to schools as they are far away from the area.
Over 30 girls have passed their high school and 12th from Pehchan Study Centre so far. Apart from imparting education, Pehchan has given vocational training to many women and girls in the area. Pehchan students are regularly taken to attend seminars, conferences, workshops. Young student volunteers come to Pehchan and interact with them.
Stories of Some Pehchan Girls
Rukaiyya- she had studied till 5th standard. Her mother was divorced when she was in 5th. She couldn't get admission in any school. Pehchan had to buy even books and stationary for her as it was not possible for the family to support. She passed 10th in 1st division.
Aaliya- she had studied till 8th. Her father was not ready to educate her after that. Pehchan teachers convinced her father to allow her to attend classes. She has done her 10th in 2nd division.
Farha Naaz- She had dropped out of school after 5th standard. She joined Pehchan centre in Jaitpur in 2010 to learn stitching and tailoring. Pehchan encouraged her to study and helped her prepare for high school. She cleared high school in the first attempt in 2011. Then she passed 12th from Pehchan in first division. Then she joined the Teacher's Training Course and has finished it this year. She is simultaneously doing her graduation.
Sumayya- she comes from a broken family, She has six siblings. Her mother shifted to her village after divorce. She joined Pehchan in 2012 and cleared high school in 2013 in first division. She did her 12th in 2015 with a first division. She is also doing NPTT (Nursery Primary Teacher's Training).
Ruheen Nisha- had dropped out after 6th standard. Her father is a daily wager. She joined Pehchan in 2011. She cleared her 10th in 2012 and her 12th in 2014th. Then she wanted to do fashion designing, but had no resources. Pehchan helped her with her fee and she has finished her first year from Delhi Women's Polytechnic with first division.
This year Pehchan has started classes in Nizamuddin area also to help school drop outs from Nizamuddin basti and Kale Khan area. The plan is to expand to more areas within Delhi to help girls from marginalised communities to fulfill their dreams.
Story of Hope
Farida Khan is the Director of the Pehchan Coaching Centre. Farida lived in Nizamuddin Basti, where her family had migrated from Mewat, Haryana. She had never gone to a school but was given religious education at home. She was married at the age of 12 years and went to live in a village in UP. Farida was divorced when she was not even 16 years old and by then she had two children. She started going to a local study centre in Nizamuddin Basti, where after a few months in 1981, a young student came to volunteer.
The young volunteer, not happy with the study centre found another place within the Basti and started teaching Farida and 5 other girls. Soon the new centre called Sehar Study Centre grew and over 45 girls appeared for their high school examination within a year. Over the next 8 years, Farida did her 12th from CBSE, did courses from Jamia Urdu, equivalent to graduation and B. Ed. It is a long story of struggle now documented in a documentary called "Story of Hope". Today Farida is a teacher herself and leads the organization, Pehchan helping girls find their own identity.
Pehchan wants to expand to other minority-concentrated areas in Delhi as the scenario is same everywhere, but due to paucity of funds, they have not been able to do it. If Muslim adolescent girls who have dropped out are to be brought back into the educational stream, then it is important to open centres like Pehchan for girls inside the minority areas and encourage them to restart their education.
[Pehchan Coaching Centre: D 375, Jaitpur Extention Part II, Near Al Hira Public School, Kalindi Kunj Road, New Delhi-110044, Email: [email protected]] (Extracted from twocircles.net)