China is the only country to have a long history of female imams.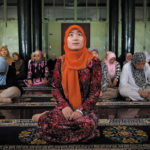 It is 5:50 in the morning, and dark shadows scurry through narrow alleys to the mosque, as the call to prayer echoes from a minaret in Kaifeng. This city in central China's Henan province has an Islamic enclave, where Muslims have lived for more than 1,000 years. In an alleyway called Wangjia Hutong, women go to their own mosque, where Yao Baoxia leads prayers. For 14 years, Yao has been a female imam, or ahong as they are called here, a word derived from Persian. As she leads the service, Yao stands alongside the other women, not in front of them as a male imam would. But she says her role is the same as a male imam. "The status is the same," Yao says confidently. "Men and women are equal here, maybe because we are a socialist country."
China has an estimated 21 million Muslims, who have developed their own set of Islamic practices with Chinese characteristics. The biggest difference is the development of independent women's mosques with female imams, something scholars who have researched the issue say is unique to China. Yao studied to become an imam for four years, after being laid off from her job as a factory worker. First she studied under a female imam, then with a male imam alongside male students. Her main role is as a teacher, she says. "When people come to pray, they don't know how to chant the Quran, so my job is teaching people about Islam, helping them to study one line at a time and leading the prayers," she says. The modest courtyard of Wangjia Hutong Women's Mosque contains within it the entire history of China's mosques for females. It's the oldest surviving women's mosque in China, with one gray plaque high up on a wall dating back to 1820.
Like other women's mosques, it began as a Quranic school for girls. These sprang up in the late 17th century in central China, including Shanxi and Shandong provinces. emembering her own childhood, 83-year-old Tang Guiying says even then the women's mosque was the only place a girl could receive education. China is the only country to have such a long history of female imams.