29 Women Nominated to Saudi Shoura Council
Kawthar Al-Arbash, Mody AlKhalaf and Leena K. Almaeena, all named as new members of Saudi Arabia's Shoura Council by King Salman.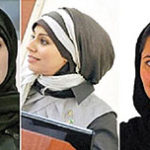 Riyadh: Saudi King Salman nominated 150 members to the Shoura Council recently, among them are 29 women. Headed by the Speaker, the Shoura Council has the power to propose laws to the King and the Cabinet. Out of the 29, the majority hold doctorate degrees and held positions in universities and civil societies across many different fields. Of the new appointments, Leena K. Almaeena was among the youngest members to be named as a member by royal decree. Leena is a member of the Young Saudi Business Committee and Sports Investment Committee in the Jeddah Chamber of Commerce, and the Kingdom Young Business Women Council. Also appointed as a member was Mody AlKhalaf, a former Saudi diplomat based in Washington D.C. considered the first woman to hold such post in the country's political history. Saudi writer and journalist Kawthar Al-Arbash will also join the Kingdom's consultative body. The Council is also authorized to review the country's annual budget, and call in ministers for questioning.