Afreen Allam, Founder and CEO Of SiNON Therapeutics is a MBA graduate of Duke's Fuqua School of Business and has over 7 years of research in nano-medicine. Her background is in Microbiology and Biochemistry. Her extensive studies on applications of carbon nanotechnology in drug delivery and bio-imaging led to the patent of the Carbon Dot in 2013. SiNON is dedicated to improving the lives of those who suffer from debilitating neurological diseases by increasing the ability of drugs to cross the Blood Brain Barrier (BBB) around the World. Currently based in North Carolina, Afreen shared her experiences and insights on research with Nigar (Islamic Voice), by email.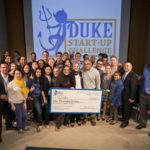 Please tell us something about your childhood
I was born in Ottawa, Canada. I come from a family of just girls. My parents, especially my father wanted us to always know that we can achieve anything we put our heart into and just because we are girls, we shouldn't feel that we can't reach for the stars. He always encouraged us to be our own boss and make our own dreams come true!
How did you get interested in Microbiology/Biochemistry?
I was a pre-medical student who wanted to eventually go into oncology. I had a passion for learning about how the human body works. I took all the requirements to get into medical school before I decided the semester, before graduating that I wanted to go into research.
How were your years of academic studies? What were some learning lessons of wisdom on life that you learnt ?
They were definitely challenging! I pushed myself to do double major, in one specific semester in undergrad, I had to get the dean's approval as i was over the maximum allowed credits per semester. During my undergrad years, I focused more on my grades. When I decided to pursue my MBA, this was going to be my 4th degree, I wanted to focus on the networking aspect rather than the grades this time. I had a completely different experience and was able to broaden my network with Duke Alumni, current students and faculty.
Tell us about your volunteering at Duke Cancer Centre.
I began volunteering in high school. The first two weeks were extremely challenging. I often thought about quitting because I wasn't used to seeing that much pain and suffering first hand. I decided to keep going back week after week and I formed special bonds with patients that truly motivated me to help find a safer way to deliver medications that would help reduce the toxicity and side effects. This experience really taught me that life is short and we should cherish our time with loved ones and do the best we can to help others.

How did this experience lead you to getting into research?
By seeing the pain and suffering of the patients who have to go through chemo and radiation, and the trauma of the family members, I was motivated to help find a safer way to deliver medications with lower toxicity.
Most people may not understand the technical terminology about nano- medicine. Can you please explain?
Nano medicine has given us the opportunity to help deliver drugs to specific cells using nano particles. We can now specify delivery and help reduce dosing. The targeted delivery aspect is meant to help reduce the side effects by giving the patients a reduced dosage of the drugs.
How did you go about setting up SiNON Therapeutics? What's your team like?
We still have a small team with only 4 full time team members and the rest on an advisory role. Our Chief Scientific Officer, Dr. Sarkar is a retired professor from IIT Kanpur. He is my mentor and has been instrumental in bringing his vast experience to our research and development. Most of our advisory team consists of Duke Faculty from the business school.
Also can you explain about carbon dot and blood brain barrier in a simpler layman's language?
The carbon dot is a carrier tool to help deliver medications across a physical barrier (BBB) that is present to protect the brain from toxins and other harmful material from entering the brain. A simple analogy we use is, the carbon dot acts as "Trojan Horse" to help mask the drug and get it to cross through the barrier to avoid being recognized by the immune system.
So with carbon dot set in place, what do you have to do to make it known across the world?
We will eventually need to have more paper publications in journals, press releases and share the information with pharmaceutical companies to show the many potential applications and benefits.
When will it start being used in healthcare set ups to treat neurological diseases?
If we can raise the required funding or get funded through grants, we have about 2 more years worth of pre-clinical trials. After that, we can start human clinical trials to get FDA approval. The FDA approval can take anywhere from 6-10 years. Depends on how urgent the need is for the specific disease area we are focusing on.
While the medical fraternity comprehends it, please explain how the patient understands its value?
For the patients, we hope to help show in clinical trials, the improvement in efficacy and reducing the toxicity. For example, with chemotherapy, essentially toxins are being pumped into the body where everything will be harmed in its path (good/bad cells). What we hope to do is to be able to target specifically the diseased area and thus reduce dosing and side effects.
You have mentioned that people question that you don't hold a PH.D. What's your message to youngsters today that even without a PH.D, one can achieve what you have done?
I certainly think education is the key! I personally learn better through experience, so instead, I learnt first hand in the lab with my professor and the other Ph.D students in the lab. I went back to get an MBA because it helps build credibility especially when I eventually want to raise funds.

As a Muslim girl, what message do you have for the youngsters today on life and career?
There is a lot of stigma for Muslim women to focus on family life and put career behind. I think there is a way to learn how to balance the two. One of the biggest piece of advice I would give is to chose your spouse wisely. There's a huge difference between culture and religion and it's important we remember that! Islam gives women many rights. As a girl, you can achieve anything a boy can. I grew up in a family of all girls. My parents always taught us that girls can make their own dreams come true as long as we work hard and put in the effort.