By A Staff Writer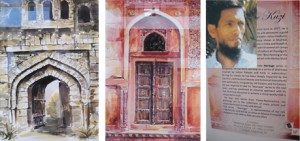 Thane based painter Mukhtar Khazi recently exhibited his paintings of doors of the heritage forts in India at Bangalore. The show was co-sponsored by the Alliance Francaise and HabitArt.
Kazi, 35 and still a student of Diploma in Arts, has been wielding his brush for nearly 15 years and has been lending expression to balance and harmony in the Nature through his abstract art. He had been simultaneously developing paintings of doors of the heritage forts around the country as his forte. The heavy doors, some still carrying those fearsome spikes prominently and others reached by moss-ridden cobblestone stairs have mesmerized him for decades. "These are not merely doors, these are doorways to our majestic heritage which currently lies in ruins," says Mukhtar while talking to Islamic Voice.
Capturing the majesty and finesse of the art that has gone into them, Khazi said he had been really impressed by the old stone work of these forts. He says his subject had been heavy and he has used lighter water colours. A total of 26 paintings were exhibited at Bangalore between January 14 and January 20.
A self-taught artist, Kazi has a good command over acrylic, oil and watercolour mediums.
Kazi has exhibited his works at several cities including Delhi, Mumbai, Indore and Riyadh. His work also received the 'Best Painting Award' in Delhi by art critic Keshav Malik in 2011. He was also invited by the Cultural Centre at Chandigarh for a 15-day training camp in the same year.
HabitArt, an NGO, is an artist residency that promotes contemporary artists. It enables art enthusiasts to buy genuine art works at affordable prices. It also undertakes specially commissioned works for residential and commercial spaces.
Mukhtar Kazi can be reached at [email protected] (cell: 9821310397) while Shujaat M. Abrar of HabitArt can be contacted at [email protected] (cell: 9821576784).