Compiler Dr. Nisar Ahmad Bhat Trali deserves kudos for the monumental work and one would expect more such efforts from him with, of course, new insight.
Ayeena e Madaris Jammu o Kashmir
Compiled by Dr. Nisar Ahmad Bhat Trali
Ikhlas Welfare Society, Tral, JandK
Price Rs. 1,500, Page 1,525
www.ikhlaswelfare.com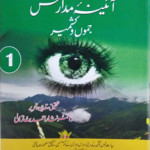 Ayeena e Madaris Jammu o Kashmir is a compendium in Urdu language of madrassas (Islamic theological schools) in the state of Jammu and Kashmir. Compiler Dr. Nisar Ahmed Butt Trali, a practising doctor from Tral, has done a painstaking job by physically approaching all the 450 madrassas spread over the State and collecting information about the nature of the syllabus, student and staff strength, finding their ideological affiliation and details of physical infrastructure. According to him, of the 499 madrassas in the State, 49 did not cooperate in providing the details.
The data has been collected and compiled in two hardbound volumes running into around 1,525 pages. Production is remarkable from a state known to be in political turmoil for the last two decades. Majority of these madrassas are registered with the Darul Uloom Deoband. A little over 5,700 persons are employed in them. Of these around 4,600 are teachers. Half a dozen are affiliated to the Kashmir University. Then there are those that are affiliated to Nadwatul Ulama in Lucknow or run and managed by Jamiat Ahle Hadis or Jamaate Islami.
The author-compiler has provided a history of madrasas in Islam and their inception in India and their roles. A silver lining is evident from the fact that 94 of these madrassa campuses also have modern schools running alongside.
Most madrassas seem to be of recent origin, having been established during the last 25 years and have fewer than 100 students including the day scholars and the resident ones. One wonders as to why madrassas imparting same type of syllabus should be in such large numbers and in close proximity of each other. Combined effort could have provided them an economy and amenities on a greater scale. A great amount of publications are also churned out by them volume wise, it is claimed. But given the fact that one has hardly ever heard any path-breaking research or study from these institutions, it could be concluded that the material produced by their maktabas (publication houses) is repetitive and routine.
One may note with satisfaction that these madrassas do not produce any militants or terrorists""a fact endorsed by even the Home Ministry and former Deputy Prime Minister Mr. L. K. Advani. But absence of a negative quality does not enhance their relevance. What needs to be asked is if these madrassas are contributing to new thought that could lead Muslims on the trajectory of progress and prosperity, enable the community to embrace pluralism of India, imbibe ideals of democracy and secularism and allow them to build bridges of understanding with other communities.
Education being a tool of social transformation needs to keep pace with new ideas and technology. Mere induction of computers or smart boards does not alter the nature of outcome and products, unless the syllabus and content is regularly reviewed and upgraded. Not much effort is seen in this direction. The compiler has scrupulously kept himself away from critical examination of the traditional pattern.
All this should not detract us from acknowledging the value of the Ayeena e Madaris which may prove a handy compendium to all those who may think of introducing modern syllabi in these institutions. Compiler Dr. Nisar Ahmad Bhat Trali deserves kudos for the monumental work and one would expect more such efforts from him with, of course, new insight.