My Memoirs: Faith, Fame, Dreams and Destiny
By K. Rahman Khan
Published by Notion Press, Chennai
Year of Publication: 2019
Pages: 265
Price: Rs 300
For copies, contact [email protected]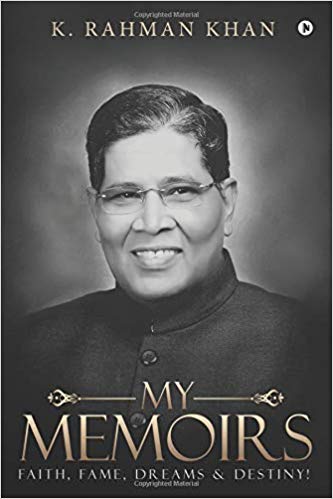 My Memoirs, Faith, Fame, Dreams and Destiny penned by K Rahman Khan tells the story of a man who has led a truly remarkable life. It is a gripping autobiographical account of Mr Khan's journey from a little village in Mandya district to the portals of the Indian Parliament, where he served as Member of Rajya Sabha for many years and for a period of some 18 months as Union Minister for Minority Affairs.
This book beautifully highlights how positive thinking can help one to reach the top of one's field. In this book, the author conveys to Muslims that with positive thinking, their religion cannot be an impediment to their progress. What is required, he counsels, is to overcome the victimhood mentality.
Mr Khan spent many years in the political field, serving in various capacities, and this phase of his life's story is discussed in great detail in the book. The book also covers Mr. Khan's involvement in setting up institutions in the financial, educational and media fields. An interesting aspect of the book are Mr. Khan's reflections on Indian politics and issues of the Indian Muslims. Mr. Khan reflects not just on crucial phases of his eventful life, but also on life as such, providing the younger generation precious advice on how to spend the short span of time that God our Creator has blessed us with on this planet in a truly meaningful way till we go back to God.
This book by one of India's most well-known contemporary Muslim politicians makes for interesting reading. It contains useful life lessons based on the fascinating life of a gentleman par excellence.