Odyssey of Courage: The Story of an Indian Multinational
By Habil Khorakiwala
Maven Rupa, New Delhi
Pages: 215
Rs. 595
Year: 2017
The books charts Wockhardt's rise on the global pharmaceutical RandD map.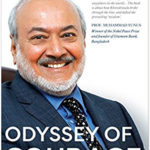 Reviewed by Maqbool Ahmed Siraj
The book Odyssey of Courage: The Story of an Indian Multinational recounts the journey of Wockhardt from Worli Chemicals to a multinational company manufacturing drugs, and, more importantly, engaged in the invention of new drugs. Today, Wockhardt has a physical presence across several continents in countries like the United States, Britain, Mexico and Russia and employs a workforce of 10,000, comprising people of 27 nationalities. Sixty per cent of its global revenues come from its international business. The man behind the transformation is the author of this book, Habil Khorakiwala, son of the founder of then Bombay's iconic departmental store chain Akbarallys.
Purdue University
Habil's grandfather, Taherbhai Ebrahim Khorakiwala, a member of the Bohra community, had left the small village of Jafarabad in Gujarat's Palanpur district to rent a small apartment in Mumbai (then Bombay) in the early 1920s. He set up a kirana (grocery) shop in the city. Habil's father Fakhruddin Khorakiwala set up the Worli Chemicals. Habil got interested in pharmaceuticals and acquired a degree in Pharmacy from a college in Ahmedabad and went on to acquire a PG degree in the discipline from the noted Purdue University in the US. Although his father was a disciplinarian and a conservative, he allowed him to pursue his studies overseas. His mother was reluctant, fearing he would go deviant in a land where taboos of religion supposedly held no bar over people. In a bid to 'vaccinate' the son who was insistent on going overseas, the doting father took him to Bohra shrines in Burhanpur and organized a personal meeting with spiritual chief of the Bohra community Syedna Burhanuddin.
Entrepreneurship is different from business. Business is a routine activity of doing the predictable. Entrepreneurs are risk-takers and venture into unexplored arenas where the outcomes may not bear fruit despite rigorous effort and investment. Habil, ably guided by his father, was not averse to taking the plunge. Worli Chemicals supplied the first four letters for the drug-manufacturing firm Wockhardt Private Limited. The first plant came up at Aurangabad in 1976. There was no looking back then on. The company launched the baby food Dexolac and bought Farex from MNC Glaxo. Wockhardt secured funding from UNIDO for its RandD unit in Aurangabad. Wockhardt Hitech Laboratory was incorporated in Ankleshwar in Gujarat in 1983. It has now 650 scientists working there. It ventured into healthcare in 1989 and set up the Wockhardt Hospital and Heart Institute in Bengaluru. Wockhardt Europe was incorporated in 1994 and the company went for global funding. By 2008, the company was running the largest hospital chain after Apollo Hospitals in the country. However a debt crisis led to the company ceding ten of the 17 hospitals to Fortis.
Research and Growth
Research in drugs is a long and arduous journey, where one needs to be ready to see the possibility of the entire investment going down the drain. But Habil's entrepreneurial instincts were driven by the robust belief that research and growth had a symbiotic relationship where each supplements and complements the other. A conference in Boston proved to be the turning point. Research in Antibiotics was the destination to go to. The world was grappling with the problem of bacterial drug resistance against antibiotics. The resistant microbes are called 'superbugs', responsible for greater extended hospitalization.
After two decades of research in the area, Wockhardt has synthesized over 6,000 chemical molecules and now has five drugs that have entered phase II and III of clinical trials. The US Federal Food and Drug Administration has given all these drugs a breakthrough status, i.e., the Qualified Infectious Diseases Product (QIDP) status. Over the last ten years, global patents in these ten years have declined by 60%, whereas patents filed by Wockhardt in these very years have increased by 315%.
800 Patents
Habil believes that innovation is often an act of chance as it is of pursuit and perseverance. Wockhardt spends 12-13% of its gross revenue on RandD. In 2016, its total investment on RandD stood at Rs. 6.7 billion, an increase of 30% over the previous year. They had filed 800 patents globally, 181 of which were granted in the last 15 years. Of these 47 were granted in the US.
Path-Breakers' Spirit
A supportive family structure is often the key to forward propulsion in entrepreneurship. Paternal guidance stood Habil in good stead. Habil advises entrepreneurs to test their skills in complex products where chances of competitors are minimal. They should be driven by a path-breaker's spirit and an insatiable appetite to learn together with copying success formulas. They should have ability both, to soar high to capture the big picture and the ground reality. In order to mobilise the collective energy, they need to raise the foundation of their enterprise on trust, transparency and steadfast commitment to the objectives of the organization.
Aware of family bickering often proving to be the nemesis of the family-owned businesses, Habil has been on lookout for recipes that could ensure constant growth even while giving a fair deal to every single stakeholder in the business. He foresees great potential for Indian pharmaceuticals in the global market and offers some vignettes of wisdom for ridding the RandD apparatus of the bureaucratic stranglehold of regulatory bodies.