The author takes the reader on a voyage of discovery of self and stokes positive energy.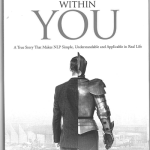 The Warrior Within You
By Syed Habeeb
Notion Press.com
old no. 38. New no. 6- McNichols Rd.
Chennai-600031
Rs. 199, Pages: 1,162
Reviewed by
Maqbool Ahmed Siraj
A vision lends meaning to a life. Without a vision, we just survive, do not live. But surprisingly eighty per cent of the people around us choose merely to survive, they do not live. Lives lived aimlessly are lives lived powerlessly. It is therefore natural to ask: What lends meaning to life?
Author of The Warrior Within You sets out to unleash the latent power of the individuals through a conversation during a train journey between a woman (Naada) gifted with immense transformational power and a young man (Hatim) who is venturing out to test his fortune at a distant location. A volcano of anger is churning inside his heart against his father whom he perceives to be violently aggressive and intolerant. Part of the purpose is also to move away from the parental family. The story however remains only as a backdrop and the author chooses the context to trigger internal forces for a major overhaul of the persona of the common individuals.
Anyone can survive, but to live, one has to develop a warrior inside which results in courageous and conscientious action, removes the blinkers, cleans up the dust filled glasses that render the external view fuzzy, demolishes imaginary villains, and stokes embers of introspection. As it happens to all of us, we reside""and love to reside""in comfort zones, never own up our deficiencies, attribute our failures to others on whom we are dependant and shy away from taking charge of our own lives.
Most of Us Merely Hear, Do Not Listen
Our thinking and habits emerge like cobwebs and get solidified into strings that weave a snare around us, never allowing us to get out of it. But ability to learn comes from being 'coachable'. Bharat Ratna awardee Sachin Tendulkar rose to the pinnacle of success by being so. He was good at listening. Most of us merely hear, do not listen. Sachin did not mind his coach's strong words when he walked to the dressing room after hitting a wrong shot into the air which nearly got him out at 99. Providence willed otherwise and he got his century but not without missing a heartbeat. His mild disposition and capacity to listen to the truth about himself made him the brightest star of the cricket cosmos. We often confuse stubbornness with confidence. But warriors are tougher within and softer outside. A Chinese proverb aptly sums up the situation: An egg can be broken from outside and inside both. When broken from outside, a life ends. When broken from inside, a life begins.
A transformation necessitates internal action, not external.
Self discovery begins with frank self-evaluation, defining a vision, setting goals and assessing one's march forward through measurable indicators. Goals are mostly self-oriented. They need to be compliant of a vision for a society where one lives. One bereft of goals, becomes part of someone else's goals. Such individuals live on low energy and burnout fast.
Human mind is accustomed to copying and following available models. It is why we adopt popular rituals and say what others say, do or believe. About 95 per cent of the thoughts we nurture everyday are negativities carried from the previous day. It is where a sound belief system comes into play. One should apply strong filters to keep away generalizations and assumptions that creep into our lives. So all that we think, utter or repeat have profound impact on us. Unless we keep removing impurities through a process of verification and reasoning, the mind will get clogged. Generalizations, assumptions, myths, and rumours tend to ruin family ties and have often been cause of wars and fratricides. They are like termites which eat into one's vitals and prepare for the eventual collapse of the entire persona.
Hatim emerges a transformed man at the end of the 33-hour journey. But then plot thickens. His father is kidnapped by goons who wanted a business deal to be signed. Hatim rummages through the father's business records and discovers that he (Hatim) is not the biological son of his father (Gawain). He was actually born to a woman who died after delivering him in the hospital where Gawain's wife had also delivered a stillborn baby. The quid pro quo allowed the two families to exchange their sorrows with pleasant gains. Armed with positive thoughts, Hatim keeps all these to himself and moves into the situation with an extra degree of gratitude towards his father rather than taking it for a scandal. He out manoeuvres the goons, gets his 'father' freed from their clutches, takes the business deal forward and ensures a happy future for the entire family.
An extremely readable book, the author (who is a personality trainer), betrays his keen awareness of the human follies, idiosyncrasies and sensitivities. The text is smooth, moves fast and makes the book unputdownable. A wonderful read, undoubtedly!
(About the Author of
The Warrior within You
Syed Habeeb is a Bengaluru based personality trainer and director in an IT firm. He has trained over 43,000 people across India, UAE, Malaysia and Saudi Arabia. He has developed several training modules)