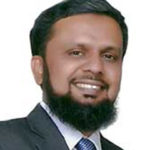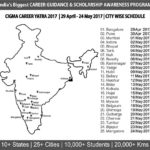 Bengaluru: Mr. Ameen e Mudassar, CEO of Cigma Foundation here will start his Third Cross country Career Yatra-2017 on April 29 when it will be flagged off with a career seminar at Shikshara Sadan, Bengaluru. The following day i.e., April 30 it will hold the seminar in Pune at Dhanya Jyoti Sadan. The onward schedule will be as follows:
Mumbai May 1; Indore May 2; Bhopal May 3, Tonk in Rajasthan May 4; Nuh in Haryana May 5; Bareli May 6; Karimnagar (Telengana) May 7; Yadgir in Karnataka May 8; Hubli or Aurangabad (still not confirmed) May 9. May 10th will be a day of rest at Bengaluru where SSLC results are expected to be announced.
The Yatra will resume from Bellary on May 11 and will proceed to Raichur on May 12; Bidar on May 13, Kolkata May 14; Hojai (Assam) May 15; Imphal May 16, Mysore May 17. It will thereafter cover Belgaavi (previously Belgaum), Shivamogga (previously Shimoga), Kalburgi (Gulbarga), Chennai, Tumkur, Vijayapura (Bijapur), and will conclude at May 24 at Mangaluru.
While talking to Islamic Voice, Mr. Ameen e Mudassar said new trends in career indicate that there will be more students taking up courses in Law, and evergreen disciplines in Engineering such Mechanical and Civil. He said there is increasing awareness about joining the NDA after Plus Two course or after graduation.
He said there is interest being shown towards Humanities too. In this context he mentioned that the IIT-Chennai has introduced Humanities course where admissions are through Humanities Entrance Exam. Ameen said courses in Psychology, Content Writing and Forensic Sciences too are getting traction.