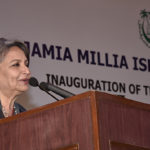 New Delhi: The 97-year old, Jamia Millia Islamia on January 17, launched its Film Club to enthuse a film culture in an institution which is well-known for its media studies. The Club was inaugurated by Sharmila Tagore, film actress of yesteryears at an impressive function at the Dr M.A. Ansari Auditorium of the University, presided over by the Vice Chancellor, Prof. Talat Ahmad.
Mrs. Tagore, who was also Chairperson of the Central Board of Film Certification (CBFC) in the past told the students that films had the potential to offer not just hope, but the remedy to many ills of society. The club will help students in understanding new ideas and latest trends that are so wonderfully portrayed through films.
Mr. Kiran Karnik, former chief of NASSCOM and a well known broadcaster who was the chief guest said the films provided entertainment, insight and learning. Prof. Talat Ahmad said that when he came to Jamia, he was surprised that despite MCRC, the university did not have a film club and, therefore, he was very keen to start one at Jamia. Prof. Iftekhar Ahmed, Director, AJK Mass Communication Research Centre (MCRC) through whose initiative, the film club has been launched, outlined its key objectives and hoped that the club will play a significant role in not just showcasing the best of Indian and international cinema to the students of Jamia, but would provide them with an opportunity to meet with film personalities.