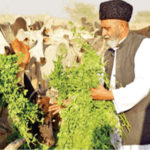 Haji Mohammad Atique feeds cows at Adarsh Muslim Goshala in Jodhpur. (TOI photo: Shaukat Ahmed)
Jodhpur: The Adarsh Muslim Goshala (cow shelter) in Jodhpur, Rajasthan, is one of the region's biggest shelters for cows and is operated by the Muslim Educational and Welfare Society of Jodhpur. Over 200 cows, most of them old and sick, are taken care of here by a team of veterinarian doctors. Haji Mohammad Atique, general secretary of the society, says that taking care of cows is like taking care of mothers, and is a part of the shared culture of India.
Everyday, a truck load of fresh green fodder feeds these cows. Cows are brought here from across the city by the goshala team in their specially designed vehicle. Most of the cows have been abandoned by their owners after they stop lactating. "Our team members who live in the city, monitor stray cows and shift those who are injured or those are old enough who are no longer able to fend for themselves," said Atique, who visits the goshala for feeding cows everyday after asr prayers. On auspicious days like Eid and Eid-e-Milad, they treat cows with kheer. They have been engaged in vaccination and treatment of cows in nearby villages. Every week, mobile vans visits nearby villages to treat cows, goats and buffaloes for free. They spend a little over a lakh on these cows per month. Spread on a portion of 56 acres of Maulana Azad University campus, Atique is developing a cow research Centre under the department of agriculture in his university. Initially, fringe elements raised objection on how can a Muslim open a goshala. They were accused of running a cow meat business in a guise of a goshala. But over the years, they won the admiration of the people and many of those who raised objections have publicly appreciated their efforts. As the area is vast, three guards patrol the area round the clock to save cows from the attack of wild animals. "Many of our university students have volunteered to serve at the goshala. I am overwhelmed by the concern shown by our students for cows," Atique says.