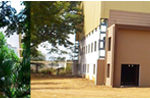 Vaniyambadi: The Islamiah College (for boys) commissioned its common Commerce lab early last year for practicals for all the commerce and computer courses. According to Prof. Prem Nazir, Principal of the college, the lab was constructed at an estimated cost of Rs. 70 lakh by the management. It is equipped with 70 systems.
Prof. Nazir informed that the B.Com (Self-financed) course started with an intake of 70 students a year has proved a grand success. The college, which was started in 1921, will be celebrating its centenary after three years. A new executive committee for the Vaniyambadi Muslim Education Society (VMES) will be elected in elections scheduled next year.
Prof. Nazir was conferred the National Award for Excellence in Teaching by the Association of Muslim Professionals, a Mumbai-based organization, earlier this year. Nazir, who taught in the college for 32 years and headed the college as principal for the last seven years, will be demitting the office on superannuation in May this year.
Atal Tinkering Lab: VMES General Secretary Mr. C. Qaisar informed that the Islamiah Girls High School will be opening the Atal Tinkering Lab under the Niti Aayog scheme later this year. The labs are being started by the Central govt in order to promote skill developments and skills. The Islamiah Boys High School started the special coaching classes for the NEET last year.