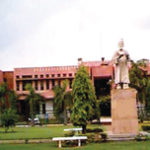 New Delhi: The Centre for Innovation and Entrepreneurship, Jamia Millia Islamia (JMI) has launched "Innovate For A Cause Competition" in 2016 that invited 27 entries to innovate. A screening committee scrutinized the proposals and 13 were shortlisted for the first round presentation which was held on March 9. The panel of judges selected six entries for the final presentation held on March 17. The first, second and third prizes were won by:
Vasudha: A refrigerator which operates without electricity and is environment friendly. This concept can cater to large rural population in our country as it is affordable and does not require electricity to operate.·
Solar Water Purifier: A device which converts saline water to potable water at minimum cost catering to the large sections of the society who do not get proper drinking water·
Transit shelter: A concept of providing temporary shelters for the migrant labours at an extremely affordable cost·
The prizes for the winners were distributed by Prof. Talat Ahmad, Vice Chancellor, JMI who congratulated the winners and the participants and extended all support for creating a conducive Eco-system at JMI for start-ups. He invited all the alumni and entrepreneurs of JMI to contribute to the Centre for Innovation and Entrepreneurship. Prof. Mini S. Thomas, Director of the Centre for Innovation and Entrepreneurship, JMI also spoke on the occasion.
Innokart +, Quadcopter, Humanoid etc. are the products from last year's competition that were appreciated at the Festival of Innovation held at Rashtrapati Bhavan on 15th March, 2016. The Centre for Innovation and Entrepreneurship, JMI was one of the 6 Innovation Clubs chosen for presentation along with three IITs, One NIT and Central Universities of Jammu for presentation at Rashtrapati Bhavan.